Sambrela Presents Blockchain-Based Cybersport Gaming Platform 'Fabula'
Sambrela is a game development and entertainment company that presented a new project called Fabula. Fabula is a blockchain-based cybersport gaming platform that connects mobile game developers with their users.
With Fabula's unique SDK any mobile game can generate income both for players and its developers. The Platform users can play their favorite games and participate in tournaments, the outcome of which depends only on the user's gaming skills. Giorgi Kutateladze, Product Marketing Manager gave us an insight into their project:
Fabula will allow players from all over the world to meet in interesting competitions with each other with the opportunity to win real prizes and money. We conceive the project as a bigger platform for the implementation of trendy features of the blockchain and gaming industry. In addition to skill-based gaming tournaments, Fabula will include an NTF marketplace, the ability to create and exchange virtual collectibles, lotteries, and much more!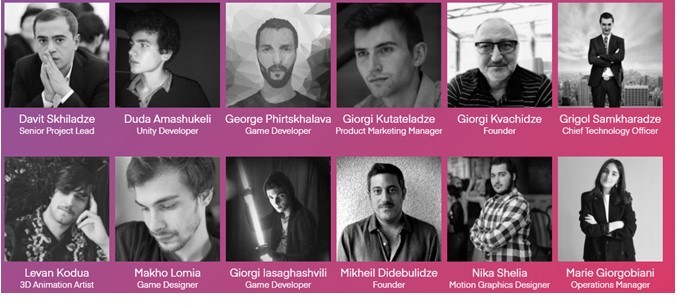 What research did you have to conduct before launching a new project?
First of all, every project goes to a special QA testers team, they test the project for bugs, fixes, and everything that can prevent launch from success, then, we make a marketing test to see how users are reacting to the project and get the first statistics for planning future marketing campaigns. After we have enough data to produce good communication with users, and we know that all our bugs, errors, and mistakes are close to zero, we can officially announce the project.
How has the global pandemic affected the mobile game industry?
With some countries completely shut down for several months due to COVID-19, mobile games quickly became the most versatile and accessible form of entertainment for everybody who was housebound. As many professionals in the industry pointed out, it was beginning to look like a new era for mobile games. With the unprecedented surge in downloads, games were seeing new users who had never played mobile games before. What's more, games came to the forefront as a way for people to stay social and connected while social distancing.
Are you planning to introduce new games in 2021?
Yes, our team is working on the updated version of our game "Zumaster", which will have a totally new interface and design. We plan to make this game go global with the new investments. Also, Sambrela is in the development process of another hyper-casual game, which is also well known as "Snake". As we did for "Zumaster", we want to make the new "Snake" look fresh and more playable for the present. Besides "Snake", Sambrela is also planning to launch another eSport project this year, which will be similar to the popular "Dots" game, where you need to connect dots to gain points. Sambrela's version will include tournaments and will be a 100% skill-based game.
For this year so far one of our hit games has already raised a $100,000 investment from the Poland Fund. The investment is being used to popularize the game and increase its monetization. We're planning to raise investments also for "Zumaster" and "Snake" and transform these two projects into a great investment opportunity for our future partners.