Popular FB Group Home Cooking Adventures Plans to Create Web Platform
Home Cooking Adventures is a Facebook Group that brings culinary fans together and lets them share recipes, tips, or new ways to cook. It has more than 55k members to this day that grows daily. It's time for a new adventure and to create a web platform that will help its users turn their hobby into a business. Nino Chkhikvishvili gave us more details about their new project that is a participant of Impact Hub's Pre-accelerator program.
When did you discover your passion for cooking, what's your background in this field?
I have never had any professional intersection with Culinary, I graduated from the Faculty of Business and Management, then acting. I am an actress by profession. Everyone is gourmets in my family: grandmother, aunt, mother, father, brother... They all have different tastes, so I loved trying new dishes. When I moved in alone with my husband, I started actively cooking. My husband is a good cook and together we come up with different recipes. We host our friends often, so we have a lot of judges.
What was your intention of creating a Facebook group ''Home Cooking Adventures'', could you see your venture becoming this popular?
Recently I started working in production, during the pandemic like most of the field, production saw a hard time, so I had more free time. I fell in love with cooking recently so much, that I wanted to be in touch with this field and decided to make a group where amateur chefs would share interesting experiences, tips, new recipes, and we would develop together. The result exceeded expectations, I did not expect such a response, it became one of the most growing and active groups. I think the reason for this is my sleepless nights, I made sure that the group had quality and tasteful content, I confirmed all the posts myself, I read every comment to make sure none of them were negative or irrelevant.
Tell us about the group members, how do they interact with each other?
I wanted the group to have a positive aura, people visiting our page to smile. I know all the active members personally, so I think we are one family. For me, these people were a discovery, I could not even imagine that such dishes were created by amateur chefs, in no way inferior to the dishes of a high-class restaurant chef. My direct and personal interaction with group members, led to a very friendly environment, united as a family, they know and respect each other.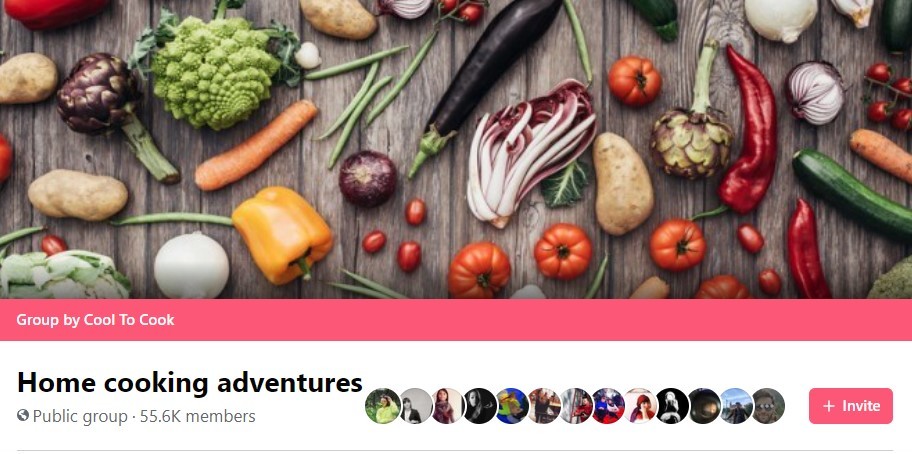 Is growing social media group a way to generate side income?
There is one simple way to monetize a Facebook group is to advertise to other companies. In this regard, I try not to overload the group with ads, if I place ads I cooperate only with companies that I trust myself, I try to do it all with taste and not in an irritating way. I focused on other projects more than that, I prefer to put less advertising and the brand does not lose quality, Home cooking adventures to be a name that people trust.
As for the plans, how do you envision the future of Home Cooking Adventures?
Inspired by the group, I co-founded with my friend the handmade kitchen accessories brand Cool to Cook, which recently appeared on the market. I also have had an idea to create a web platform and app for the group.
A few months ago I decided to make this idea come true and it was during this period that the Impact Hub pre-acceleration program for startups started. It was an ideal chance at that moment, so I filled out the app and the startup Home Cooking Adventures was chosen for this program. The process is not yet complete, we have a few weeks left before the end of the program. The best solution was to fill out that application. Impact Hub super Team helps us a lot to refine the idea, to have a successful business model, in short, they give us all the knowledge to help a startup succeed.
Home Cooking Adventures will be a web platform and application that helps enthusiastic home cooks who want to turn their hobby into a business, sell home-cooked dishes online, easily find customers, increase their credibility through the evaluation system and increase their income. On the other hand, users can enjoy dishes they liked in pictures, discover new ones, or order the necessary ingredients and prepare it themselves.
Home cooking adventures days is also an important project for me. It will be a Street food festival where amateur chefs will take part, prepare various dishes. In addition, small entrepreneurs will have the opportunity to introduce more of their products. During the pandemic many home cooks started small businesses such as jams, creating liqueurs, marinades, and others. I would like to support their development within this festival.
This project was written and planned before the second wave of Covid-19, unfortunately, the deteriorating situation of the pandemic prevented us from conducting the festival. Now we think that soon it will be possible to organize such an event in the open air, so we started actively finding sponsors and meetings again, hopefully soon we will all meet together and people will see active members of the group live and be able to taste each other's delicious dishes.
What do you see as the biggest success of the group?
For me, Home Cooking Adventures will hit its peak when it combines many interesting projects under this name, will support the development of home cooking and climb to an even higher level, discover new faces, and allow them to earn money in this field. I want Home cooking adventures to be quality and a tasteful content maker that is associated with quality, credibility, and positivity for everyone. Culinary in Georgia is really in its golden age and I want Home cooking adventures to be a part of all this. I think I am on the right path, the main thing is hard work, believing in what we do, and never losing a positive mood.