Georgian Postcards Adapted by Digital Technologies
Designer, Murtaz Purtskhvanidze has created a concept on the matters of new postcards, which is built upon Augmented Reality. With the special application, one scans the postmark and examines the information about its designed visual. For instance, if the postcard portrays "Flying Painter" by Petre Otskheli, the application shows the biography and facts about this and other artworks.
"As usual, postcards consist of specific information, for instance, relevant facts and persons. In accordance with the fact, that marks are motionless, they present the facts in a limited way. I am philatelist and I know, that added information is not sufficient. This is the reason, why I decided to create postcards, which are built upon Augmented Reality, AR. Apart from this, I had a chance to master the matters of AR technology and to use it on a large scale. In several years, AR will be used actively in all fields. For this time being, it is relevant to have a project implemented upon digital technologies. Development in this sphere is crucial. That's the way the world goes to.", the designer, Murtaz Purtskhvanidze noted.
The application unites several categories, including Georgian history and culture. Except for Petre Otskheli's artworks, they also managed to create the illustrations based on the film "The Eccentrics", composed by Gia Kancheli, Georgian traditional dumplings, Khinkali and depictions of Georgian Alphabet. It is also worth mentioning, that most of the remaining illustrations belong to Murtaz Purtskhvanidze.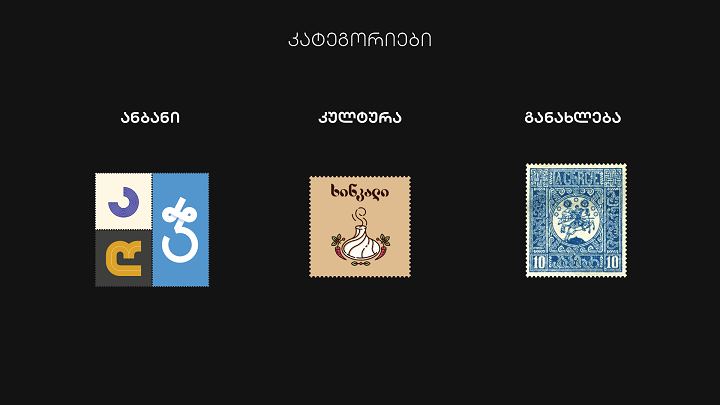 If one buys the postcard, for instance, in Germany, the application will be on the German language.
This means, that they will get a huge amount of information about Georgian culture and history.
The application will be available on Android and iOS devices.
Currently, the author is working on the implementing of this idea.