Giving New Life to Old Furniture Pieces with Anna-Sekowska Livny
Polish Anna-Sekowska Livny is a woodworker and furniture restorer who hosts workshops in Tbilisi. Sometimes you will find her redesigning old soviet time furniture pieces from the Kutaisi factory. She tells us about her projects and approaches to design process.
Please tell us how and when you got to Georgia.
Our coming to Georgia was quite unexpected. We lived in Israel at the moment and my husband got a temporary job offer in Tbilisi, for three months. I worked online, the kids were small and we decided to give it a try. Three months is not an eternity… This moment was almost fourteen years ago… Kids are not small anymore, my husband's professional path changed, my online job is long gone and we are still here. As one of my friends said: we came and then Georgia happened.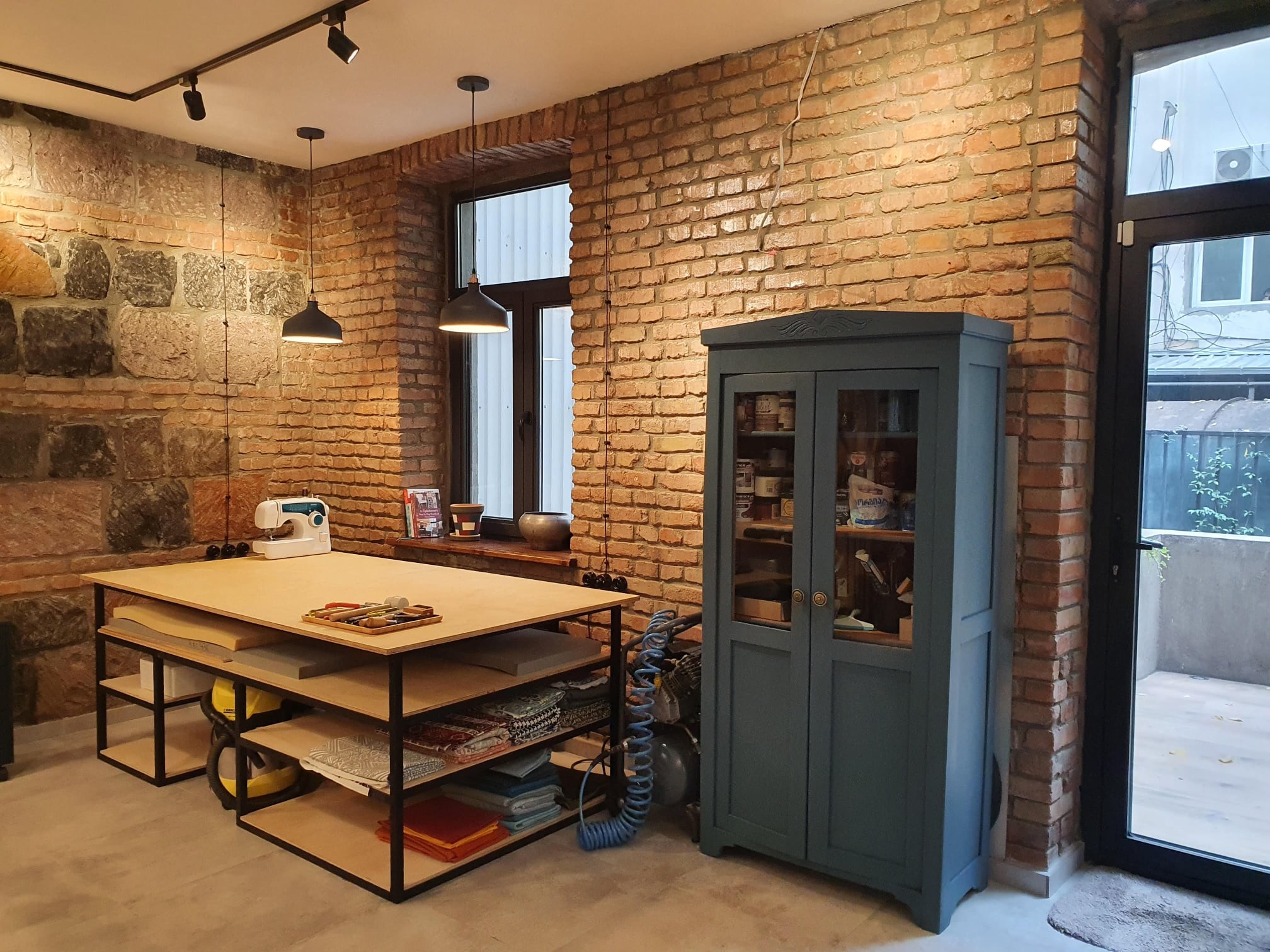 Furniture restoration is not something that most people get into, what's your background?
As for the first part of your question, you are right, it's not the most popular profession especially for a woman, and especially in Georgia. Very often I get surprised looks in shops full of men. I have a feeling they want to ask if I got lost. There are women addicted to buying bags or shoes. I am also addicted but to tools. It is extremely difficult for me to leave a shop without at least a package of screws, a drill bit, or a clamp.
My professional background is as far from woodworking as it gets. I have a law degree. I still wonder why I spent a considerable part of my professional life doing something I hated, but this is the story of many people.
My family background is not connected to woodworking in any way either. Unfortunately, I didn't have any grandfather with a workshop, but manual skills are in the family.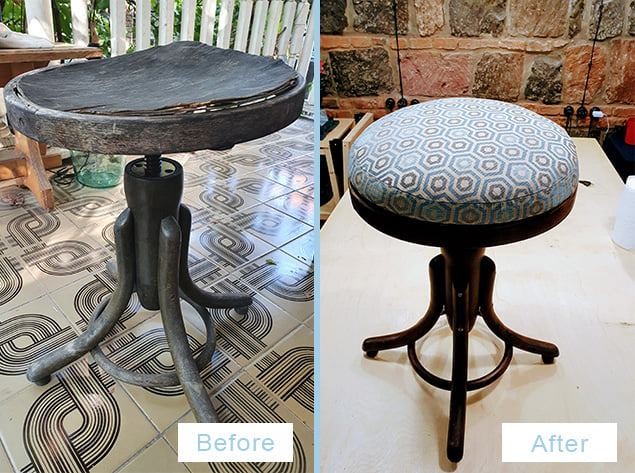 How did woodworking and furniture restoration become your passion?
I was lucky and managed to shift to something I love. I always liked doing things with my hands, but the shift was very gradual. A few years ago, when designing furniture for our daughter's new room I decided to re-upholster one of her chairs. I can't say it was a masterpiece, but this was the starting point. When upholstering I realized that quite often I need to fix the piece first but I had neither knowledge nor tools to do it. So little by little I started building up both my skills and my supply of tools. I was working at the balcony of our house which created two problems: my ability to work was very much based on weather conditions and my tools were filling every corner of the place and thus nobody else could use it. My husband dreamt about kicking me out of this balcony. His dream came true when I created "ASL works' and moved to the workshop on Aghmashenebeli. This was a huge upgrade and my "dream come true" moment.
What kind of renovation works do you do?
As I mentioned before, I started with upholstery and I still do many projects of this kind. I like old Soviet time armchairs and Georgian chairs from the Kutaisi furniture factory. Both are usually considered junk, but all my friends know I am a trash collector, so I don't mind. I like the challenge involved in the "trash-to-treasure" process. I am also re-purposing, re-painting, and restoring all kinds of old furniture: tables, cupboards, beds. My general idea is that old furniture pieces are beautiful and worth restoring, and I feel a great deal of satisfaction when I manage to give a new life to a piece that had been already sentenced to death.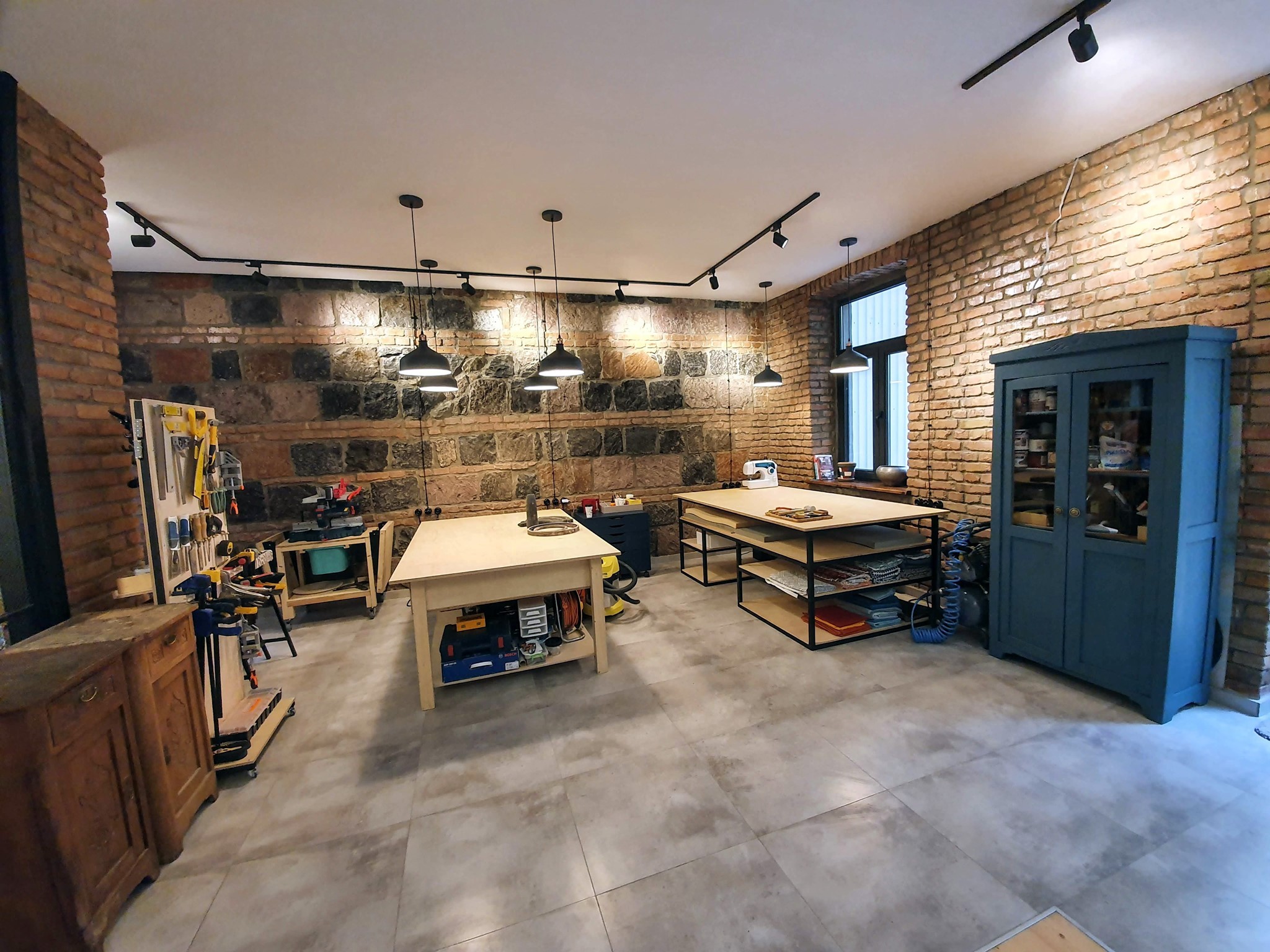 You host various workshops, what are the themes and where do they take place?
I didn't have the opportunity to have too many workshops for now, because of the pandemic, but I do plan to organize quite a few of them. They will be somehow connected to working with wood – making boxes, coasters, bookends, wooden decorations. But I also hope to be able to host workshops of other people, who have some skills to share but are not as fortunate as I am to have their studio. It can be candle or soap making, creating jewelry, painting. I would be happy to create a "co-creating" space in my workshop on Aghmashenebeli 150a.
What excites you the most right now, and what do you see as your next step?
I am still very much excited about having my studio and surprised that there is a demand for my services! I am now at the beginning of my new career and haven't decided yet what would be the best way to continue. I have a lot of different ideas and no clue which, if any of them would work. I think one of my most interesting projects right now is the one I am working on with my artist friends. It is about creating unique pieces of furniture with a Georgian vibe. We are now preparing a few samples and I hope it will work out.