The Best Trio: HUAWEI Nova 5T + WATCH GT 2 + FreeBuds 3
I got my first Huawei product, a Mate 10 Pro, in 2017. Since then, I've never stopped following Huawei's new releases. So naturally, this November, my collection was updated again.
My Nova 5T now has my daily communication and entertainment needs covered; my WATCH GT 2 takes care of my health and tells me the time; and my FreeBuds 3 let me listen to my favorite music from either device, whenever and wherever I want. Individual reviews of each of these products are all over the Internet, but I'd like to share my experience of how well these three work together in my daily life.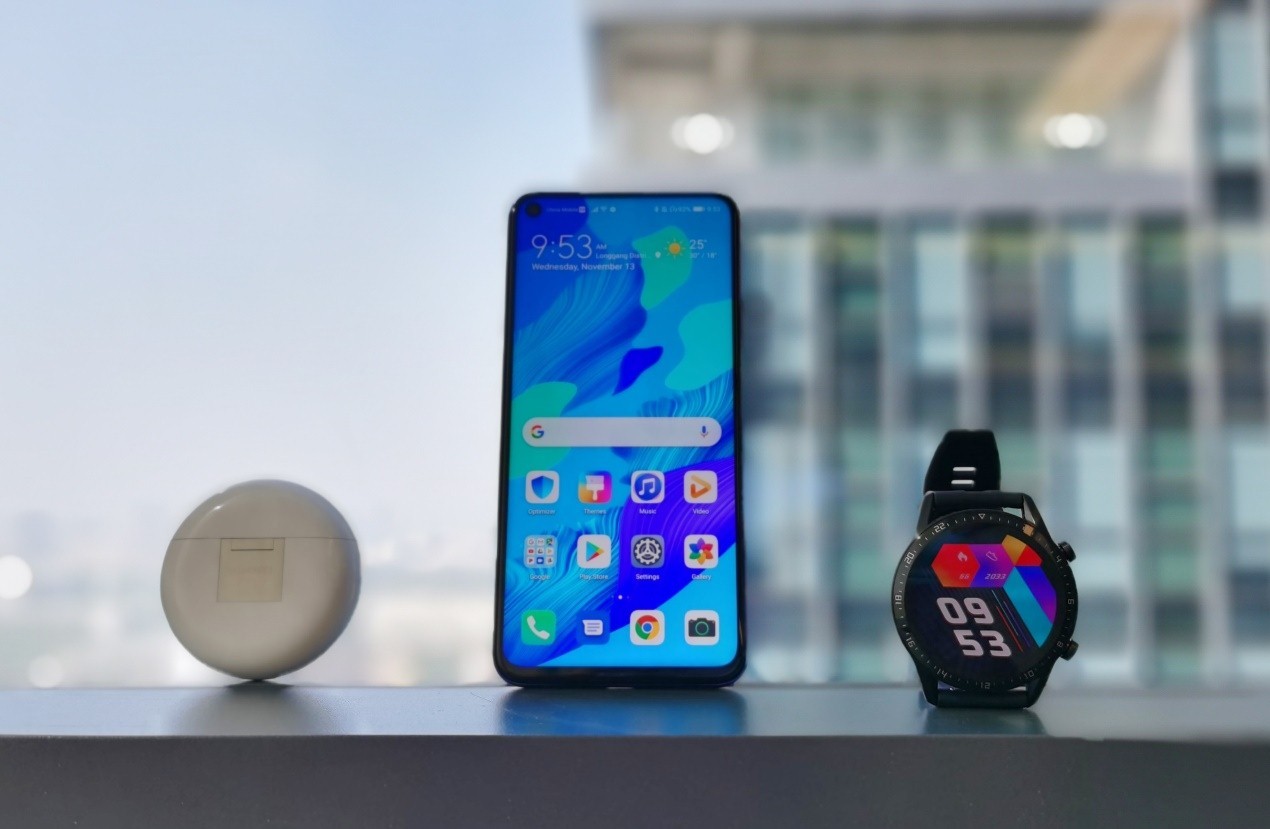 Seamless connection
Using my phone, watch, and earbuds together has made communication so much more convenient. I used to have to rely on my phone to receive messages and calls when it was my only device. My WATCH GT 2 then ensured I wouldn't miss anything, even if I didn't always have my phone with me. Now, with FreeBuds 3, I can stay in touch and up to date without even having to look at a screen.
Not every smart fitness watch can make phone calls like the WATCH GT 2. I can receive messages and phone calls on my watch anywhere within a 150 m radius of my phone – which means I can take calls directly on my watch when I'm running, doing housework, or driving. I generally prefer to take private calls on my FreeBuds 3, though, as the 46 mm WATCH GT 2 only lets you listen through the speaker.
And here comes one of the main reasons I love the FreeBuds 3 – the way they work seamlessly across devices. Once paired with a single device, the earbuds can be used with multiple Huawei devices (such as watches, phones, and tablets) logged in with the same HUAWEI ID.
For instance, my FreeBuds 3 will automatically connect to my WATCH GT 2 when I leave my phone in a locker when I go to the gym. I can then enjoy the music on my watch while I'm exercising by simply double tapping an earbud or touching the watch screen. Once I'm done, the earbuds will reconnect to my phone as soon as I get back to the locker room without me having to do anything.
Smart alarms on the wrist
After getting the WATCH GT 2, I'm now completely used to being woken in the morning by the vibration of the watch, and wouldn't want to go back to being shocked out of sleep by a noisy alarm.Though I'm still not a huge fan of getting out of bed (who is?), this gentle method of waking up is much more bearable. On the WATCH GT 2, you can add alarms in the Alarm app just like on your phone. The watch will vibrate at the time set – softly enough so you aren't suddenly jolted awake, but strongly enough to ensure you do actually wake up.What's more, alarms you set on your phone can also be synced to the watch. And the good news is, you can turn off the alarm by simply raising your wrist – in other words, no more fumbling around for your phone to turn off your alarm every morning.
Take care of your health
When you're working long hours or constantly out-and-about, it's easy to forget about taking care of yourself. The WATCH GT 2, together with a Huawei phone, can help keep an eye on your health for you.
The first thing I do every day is check last night's sleep quality report in the Huawei Health app on my phone. As shown in the screenshot below, the app keeps a detailed record of my sleep data, including recording my deep sleep, light sleep, REM sleep, and periods where I was awake. It also provides tailored advice and stress release solutions to help improve my sleep quality. With HUAWEI TruSleep™ 3.5, the WATCH GT 2 now has improved heart rate alerts, sleep tracking, and activity reminders. It will pop up a reminder asking me to stand up and move around when I've been sitting for over an hour. Though heart rate monitoring can be power-consuming, the WATCH GT 2 can still last more than 2 weeks with heart rate monitoring switched on due to its advanced power solution and long lasting battery life.
Professional sports trainer
The WATCH GT 2 is not specifically designed for sports, but it's equipped with a variety of exercise monitoring features that cover a wide range of different exercise forms.Different from traditional smart watches that mostly only track walking and running data, the HUAWEI WATCH GT 2 supports up to 15 sports modes, covering a wide range of common indoor and outdoor sports including jogging, swimming, triathlon, climbing, and trail running. Just select a compatible sports mode and wait till GPS positioning is finished. Then you can check the real-time data of more than 190 professional sports parameters such as heart rate, speed, distance, and stride frequency with just one touch.Another feature I really like is called Smart Companion. My watch shows the gap between me and my running companion, which encourages me during running and makes it a fun experience.
Enjoy music anywhere, anytime
Exercising alone can sometimes be dull, especially when jogging. When I exercise alone, I find music really helps keep me motivated.That's why the HUAWEI WATCH GT 2 and FreeBuds 3 are so well matched when it comes to sports. Running with your watch and earbuds is a much better experience than holding your phone or using traditional earphones, as they're not only free of cables that can easily get tangled up, but are also light to carry.The best part is, with the HUAWEI WATCH GT 2, you don't need to worry about how to listen to music without a phone. The large storage capability allows it to store about 500 MP3 files, which means it doesn't need to rely on a phone to play music. You can also manage your music and customize your playlists for your watch in the Huawei Music app. With your FreeBuds 3 connected, your jogging will never lack background music.
Huawei is working on building what they call an "all-scenario ecosystem", which is a phone-centered ecosystem that seamlessly integrates your other devices – including smart watches, earphones, tablets, PCs, and routers – together. Devices in this ecosystem are connected, and functions on different devices are coordinated with each other. As part of this ecosystem, a smart watch is no longer just a device with basic functions like showing the time and date, but can also receive reminders and notifications you don't want to miss. You can receive notifications for phone calls or messages in different forms via phone, smart watch, or even earphones in this fully integrated ecosystem, keeping you in touch anywhere and anytime.