Tourism Growth Remains Positive Despite the Flight Ban
It has been two weeks since the Russia's flight ban and some evidence of the impact has started toaccumulate.
As initial figures suggest, the impact is broadly in-line with TBC Research previousassumptions of up to 5% growth of tourism inflows over the next 12 months (see Manageable Impact on the Growth and Still Betting on the GEL).
The weekly data on travelers from Russia indicate that in the first week of July, before the actual ban had entered into force, decline of Russian visitors was more moderate (-4.1% YoY). Over the same period, the number of flights retreated by c. 11% YoY. Once the direct flights were banned, the number of Russian citizen arrivals fell by 21.4% YoY (in the 2nd week of July). The arrivals by air were hit harder with a reduction of 78.6% YoY, while the decline through other borders was more moderate at 1.7% YoY.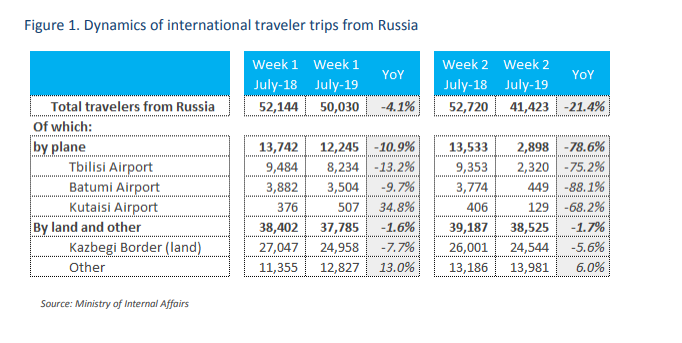 Several conclusions follow from the initial figures:
1. As travelers by plane generally spend more, the drop in tourism inflows from Russia should have been greater than in the number of travelers. Overall, TBC Research assumption on 50% drop of inflows over the next 12 months appears to be a reasonable upper bound for the decline.
2. Despite the complete abolition of direct flights, a significant part of Russian citizens still arrived by plane, suggesting the alternative routes are already active and are expected to increasingly substitute direct flights.
3. Indirect arrivals of visitors by plane coupled with only a moderate decline of arrivals through other means of transportation indicate that Georgia still remains an attractive destination for Russian tourists.
Thanks to the diversified sources of tourism inflows, despite the c. 21% YoY decline of travelers from Russia in the second week of July, the growth of the total number of travelers remained on a positive trajectory (+3.2% YoY). Historically, the increase of tourist inflows has been several percentage points higher as compared with that of travelers; however, due to more pronounced drop in tourists rather than same-day visitors, this differential should be lower.
On the contrary, the initial period following the restrictions is likely to be the toughest as a more active marketing campaign targeting other countries has been launched and therefore tourism inflows may strengthen.