Temi Cloud: We Let Companies Hire Talent Faster and Help Community Leaders Grow
Temi Cloud is a platform that connects companies with professional communities such as programming language groups on Slack, Discord, Telegram, and any place where talented professionals hang out. Temi Cloud has organized tech meetups and managed tech community groups in Georgia for years (JavaScript Georgia, Cloud Native Georgia, Women in Tech from Georgia). As a result, the startup has become well connected with the local talent pool and tech companies in Georgia.
''Companies would reach out and ask for talent recommendations from the community. We were doing manual matching of companies and candidates by hand months before the idea of building a platform emerged.
We talked to 50 Georgian tech companies before starting Tech Talent, the Georgian talent platform. After launching in production, we've heard overwhelmingly positive feedback from companies: they are successfully hiring engineers and designers from our platform.

After talking to friends from Armenia, Belarus, and Ukraine we realized that the problem we were trying to fix was not specific to Georgia. Community leaders confirmed that they were facing the same friction when connecting community members with commercial companies.
As a consequence, we created Temi Cloud that enables each community to build a platform of their own and monetize when sharing paid content, referrals, and sponsorships,'' says Mariam Khomeriki, CEO of Temi Cloud in the conversation with CBW.
We asked her about their team and the technologies they use to bring their idea to life. Three of the key team members manage different directions:
Mari is the CEO of Temi Cloud. She conducts interviews with customers and collects feedback. She is involved in the growth process, product development, finding and onboarding new communities. She analyzes the data the company has collected so far.
Sandro is the CTO of Temi Cloud. He is managing a team of four engineers by conducting code reviews, design reviews, mentorship labs, and 1:1s. He built the initial infrastructure and contributed 50K lines of code in Temi Cloud.
Giorgi is a COO of Temi Cloud. He is responsible for all consumer-facing parts of the application and internal processes of the company. He is working daily with five in-house software engineers and two freelance designers.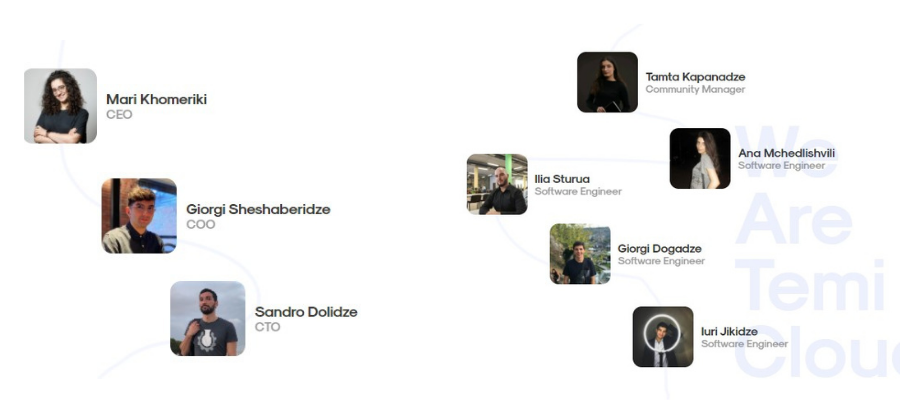 ''The biggest beneficiaries of our product are tech companies and professional community leaders. We help companies hire talent faster and help community leaders grow and monetize their groups without spamming their community members.
The distinctive feature of Temi Cloud is that unlike traditional job listings we give companies already distilled, organic target audiences. Companies will have a possibility to share their referral, sponsorship, or job post requests to community leaders. Community leaders will accept or reject companies' requests and monetize accordingly.
On the other hand, community leaders can create their own branded webpage for their communities without writing a single line of code. They can monetize their communities in the best possible way,'' explains the CEO of Temi Cloud.
As for the next steps, the startup already has international traction. They have five Armenian tech communities on Temi Cloud. As we learn from Mariam Khomeriki, their next big goal is to go to an international market and grow their network of communities and companies.