"Euronews Georgia" celebrates the beginning of broadcasting in Georgian
16th September 2020, Tbilisi – After starting to broadcast fully in Georgian on 31st August, Euronews Georgia organized today at its studios, on Rustaveli Avenue, a celebration in the presence of Georgia's President Salome Zurabishvili and members of the diplomatic corps.
Euronews Georgia is a new independent news channel based in Tbilisi which provides local, regional and international news to its audiences, through morning, afternoon and evening news shows 24 hours a day in Georgian. To this end, Euronews Georgia has recruited a highly qualified team of over 80 professionals.
Euronews Georgia was created as a Euronews branded affiliate, following the signing of a partnership agreement between Europe's leading international news channel Euronews and Georgian telecommunications company Silknet in September last year.
Due to restrictions in place linked to the COVID-19 situation, only a limited amount of guests were able to attend the celebration today. Ambassadors, the Business Association President Soso Pkhakadze and Giorgi Ramishvili, Silknet's Supervisory board Chairman, were among them.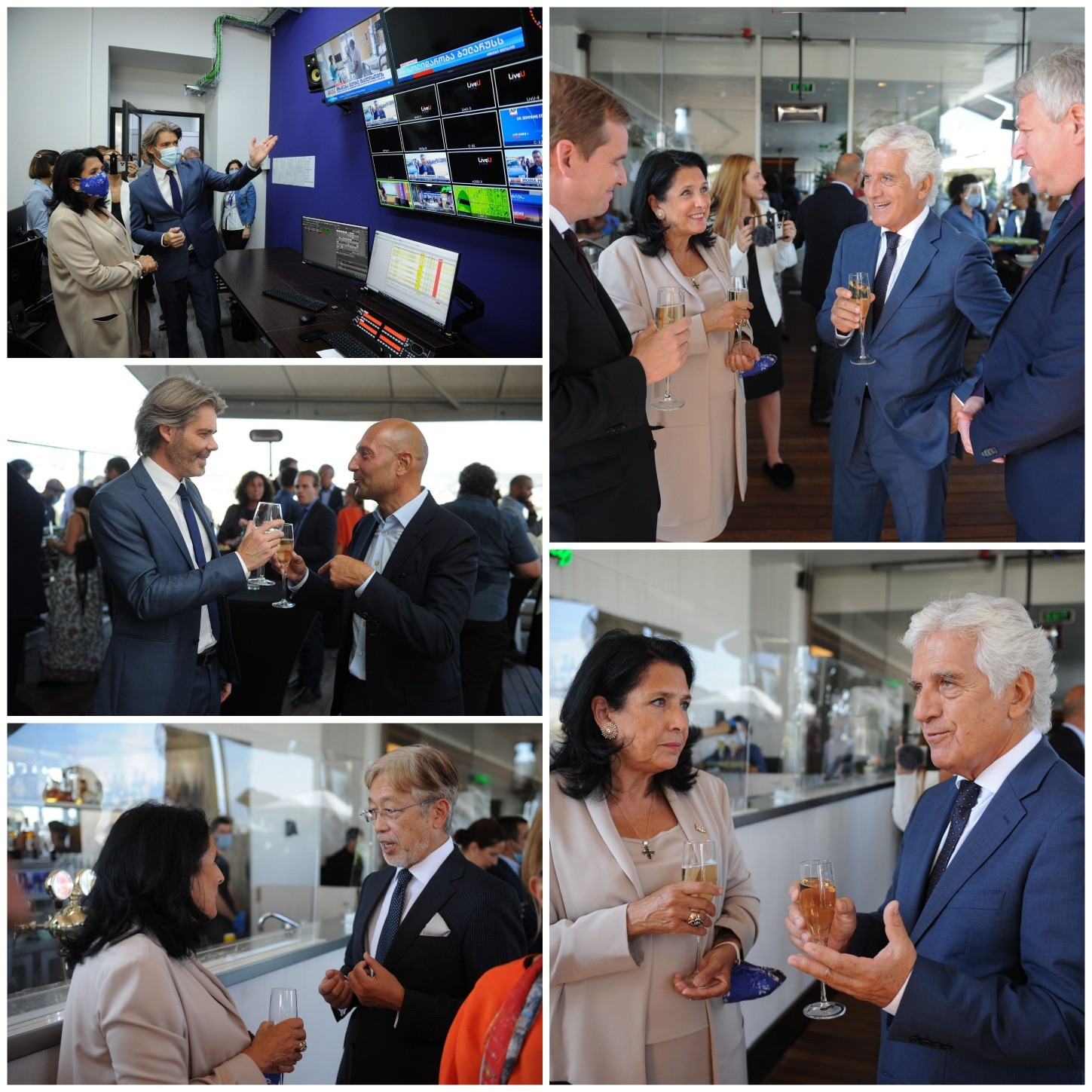 Georgian President Salome Zurabishvili and the Ambassador of France H.E. Diego Colas offered their congratulations to the teams involved in Euronews Georgia's successful launch.
"I congratulate Euronews Georgia on starting the Georgian broadcasting. It is indeed a progressive move. As I mentioned earlier, with Euronews, Georgia will draw closer to Europe and vice-versa, Europe will find out more about Georgia. It is a bridge between Europe and Georgia. I am especially delighted to see the new faces in the Euronews Georgia team, who delivers unbiased news to the public and practices free speech, according to Euronews values. I would also like to point out the important fact that Euronews' partner Silknet and its founder Giorgi Ramishvili are not involved in the channel's operations. That additionally proves that Euronews Georgia follows and preserves Euronews' main values of independence and impartiality"- stated the president of Georgia Salome Zurabishvili.
"I want to congratulate Euronews Georgia for beginning its operations in Georgia. This will bring Europe and Georgia even closer together. At the core of European liberal democratic values is freedom of the press. Freedom of the press means quality press. There is a challenge in the world today everywhere to maintain the quality of journalism with the pressure of 24 hour media, with people who specialize in fake news. Everywhere, we need to take journalism to the next level of quality. I believe, that Euronews Georgia, in partnership with the main office based in Lyon, will make a key contribution in this regard." – said HE Diego Colas, Ambassador of France in Georgia.
Euronews is an independent and impartial news channel launched in 1993. Its mission is to empower people to form their own opinion, by offering a diversity of viewpoints. Euronews Georgia stands for the same values: editorial independence and impartiality. Euronews Georgia, like Euronews, is "All Views".

Michael Peters, Euronews CEO said: "There was much cause for celebration today: after soft launching in May with Euronews' English language edition, Euronews Georgia succesfully rolled out its service in Gerogian a few weeks ago. I have no doubt that Euronews Georgia will rapidly become a leading media in the country. The Euronews Georgia team is highly professional, smart and committed to what has always driven Euronews: delivering impartial independent journalism, by presenting all views. I am very proud of what we have achieved together, with our partner Silknet and the new team at Euronews Georgia, in just one year and despite difficult conditions linked to the COVID-19 crisis. Long live Euronews Georgia!"
Jano Zhvania, CEO of Euronews Georgia stated: "We have built a team of experienced professionals, who honor the main values of Euronews – independence, impartiality and diverse viwepoints. Euronews Georgia staff puts effort to create a successful media channel which will be a true added value for Georgia."
In a strategic move to become the world's first "glocal media", Euronews has in less than two years signed three branded affiliate agreements to launch Euronews Albania, Euronews Serbia and now Euronews Georgia. Euronews Albania started broadcasting in November 2019 and Euronews Serbia is due to start airing before the end of 2020.

Euronews is a leading international news channel and one of the best known and most trusted news brand operating across Europe. Worldwide, Euronews is broadcast in 160 countries and distributed in almost 400 million homes - including 67% of homes in the European Union + UK. Every month, Euronews reaches almost 150 million people, both on TV and digital platforms, according to the Global Web Index (Q1, 2020).