10 Technological Innovations for Bank of Georgia Customers
As you know, today Bank of Georgia, as a technology bank, held an online event - "Bank of Georgia UPDATE - Technology Day".
The 10 speakers talked about current interesting projects, future plans and news, including Super App, Payment Management Platform, Bank of Georgia Ads Manager, Api.bog.ge, in part, Business Internet Banking, Design System, Georgian Speech Technologies, and App for school children.
Let's discuss each news in detail.
1. Super App - Levan Kobakhidze, Director of Digital Banking Services, Bank of Georgia
As the Bank of Georgia announced, the future of mobile banking will be the application of a Super app, which will combine many banking and non-banking services - each of which is an integral part of the daily life of the user.
Mobile Banking has already embarked on a path of super approval, for example, it has such non-banking functionality as investments, third party auto liability insurance, offers.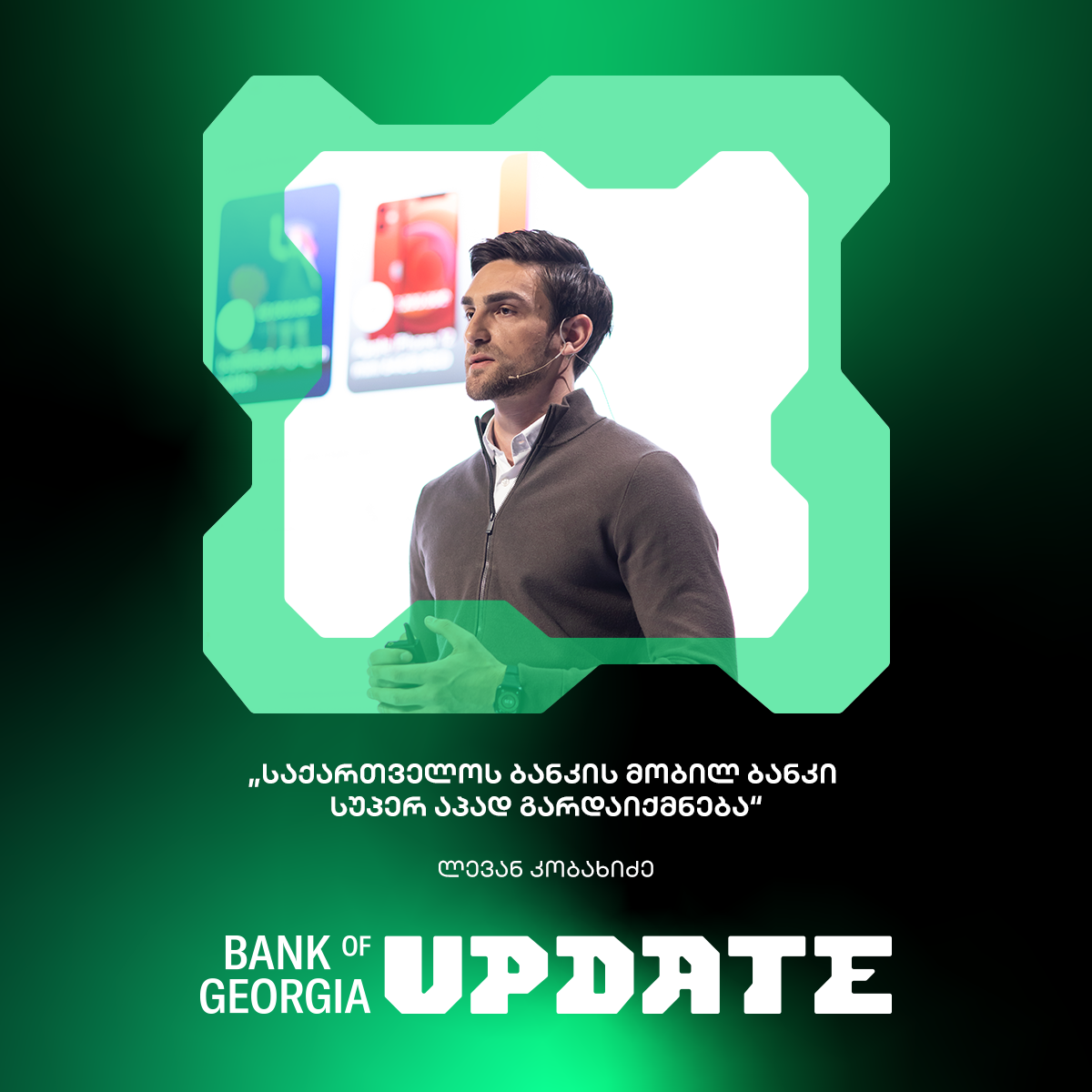 It was also announced that the mobile bank will add features such as cryptocurrency trading, tickets, new payment methods, mobile commerce using QR, daily news in the form of stories, management of other bank accounts from one place, Marketplace, auto, and travel insurance.
The goal of the bank is to meet the diverse needs of the customer through mobile banking; Give them the ability to centrally access banking and non-banking products and services that are part of their daily routine from a single application.
2. Payment Management Platform - Baia Chalelishvili, Deputy Director of Payments Management Department of the Bank of Georgia
Bank of Georgia creates a new payment management platform for businesses, which is completely digital, combines payment services in one space and allows businesses to manage payments independently.
The payment management platform is a single space where the customer will be able to manage, request and analyze the payment methods necessary for their businesses.
With the help of the platform, it becomes possible for businesses to:
Fill in the application online and instant registration
Integrate payment methods in minimal time, easy and fast registration
Effective management of operational activities
Fast deposit of traded money
Analysis of payment results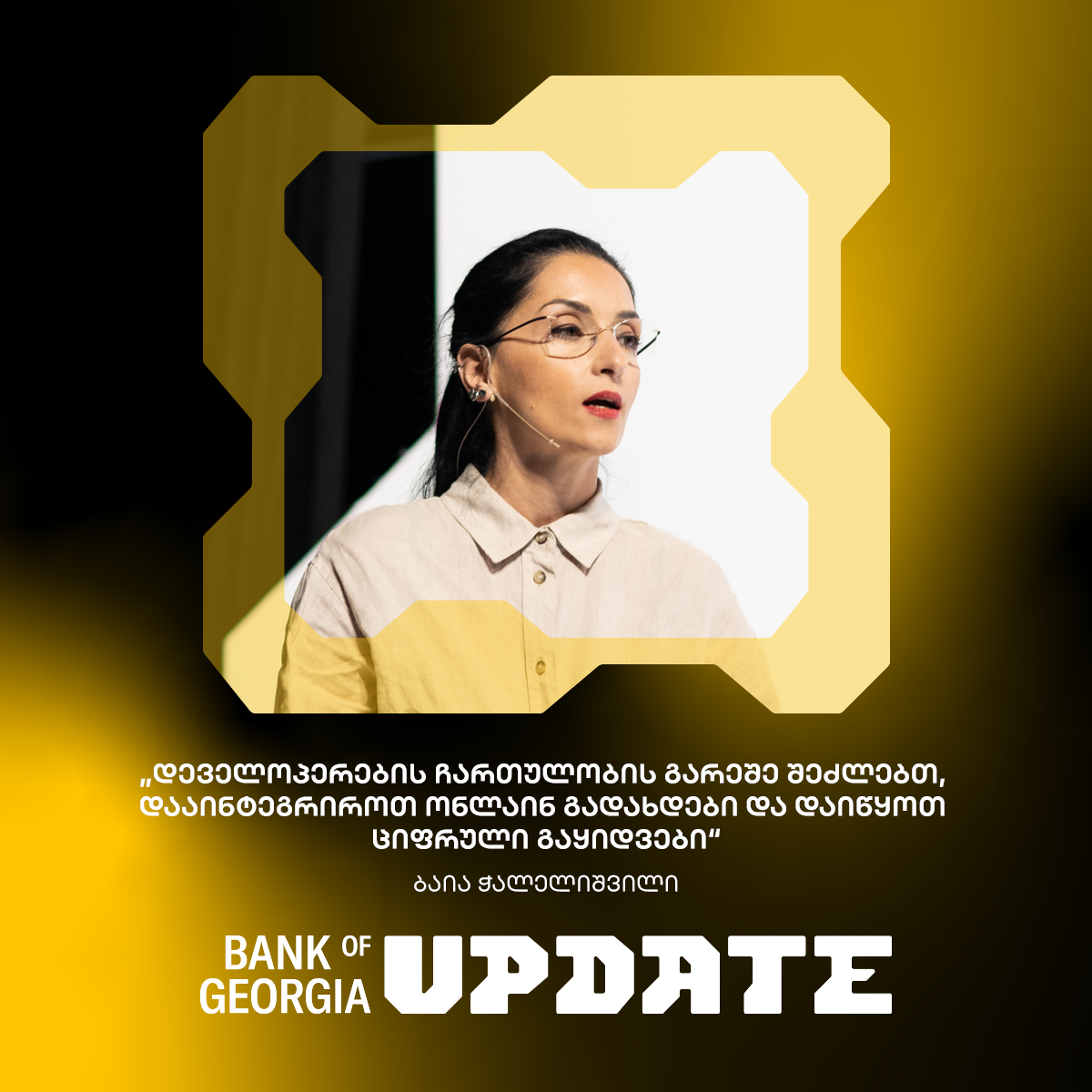 With the digital and physical payment tools provided here, businesses can request or cancel as needed; From here, you can manage payment-related transactions - for example, canceling payments and refunds to customers. If necessary, you will register in this space, become a recipient of payments and instantly start using the desired method.
Due to the increased demand for payment services, the bank decided to make it easy for businesses to request all payment methods without having to go to the bank. To do this, a payment management method has been developed that will allow businesses to access a special dashboard:
Undergo identification
Register as recipients of payments
Order one or more payment methods
Track payments online
Invite and add support users.
What are the benefits for the business?
Save time to start receiving payments online instead of going to branches
Save time in exchange for calling the call center
Use a comfortable dashboard to perform operations that were time-consuming and required the involvement of different rings
Keep track of payments online
3. Bank of Georgia Ads Manager - Giorgi Vakhtangishvili, Deputy Director of the Digital Banking Department of the Bank of Georgia
"Bid Management" - a new platform of the Bank of Georgia, which, based on banking operations, offers customers tailored to their wishes and interests, while giving businesses the opportunity to create and manage demographically targeted, highly effective offers.
With the help of the Mobile Bank Quotes module, customers can see non-bank (lifestyle) quotes of different businesses in one space.
"Bid Management" is the mechanism behind this module, which generates offers tailored to the customer based on banking operations.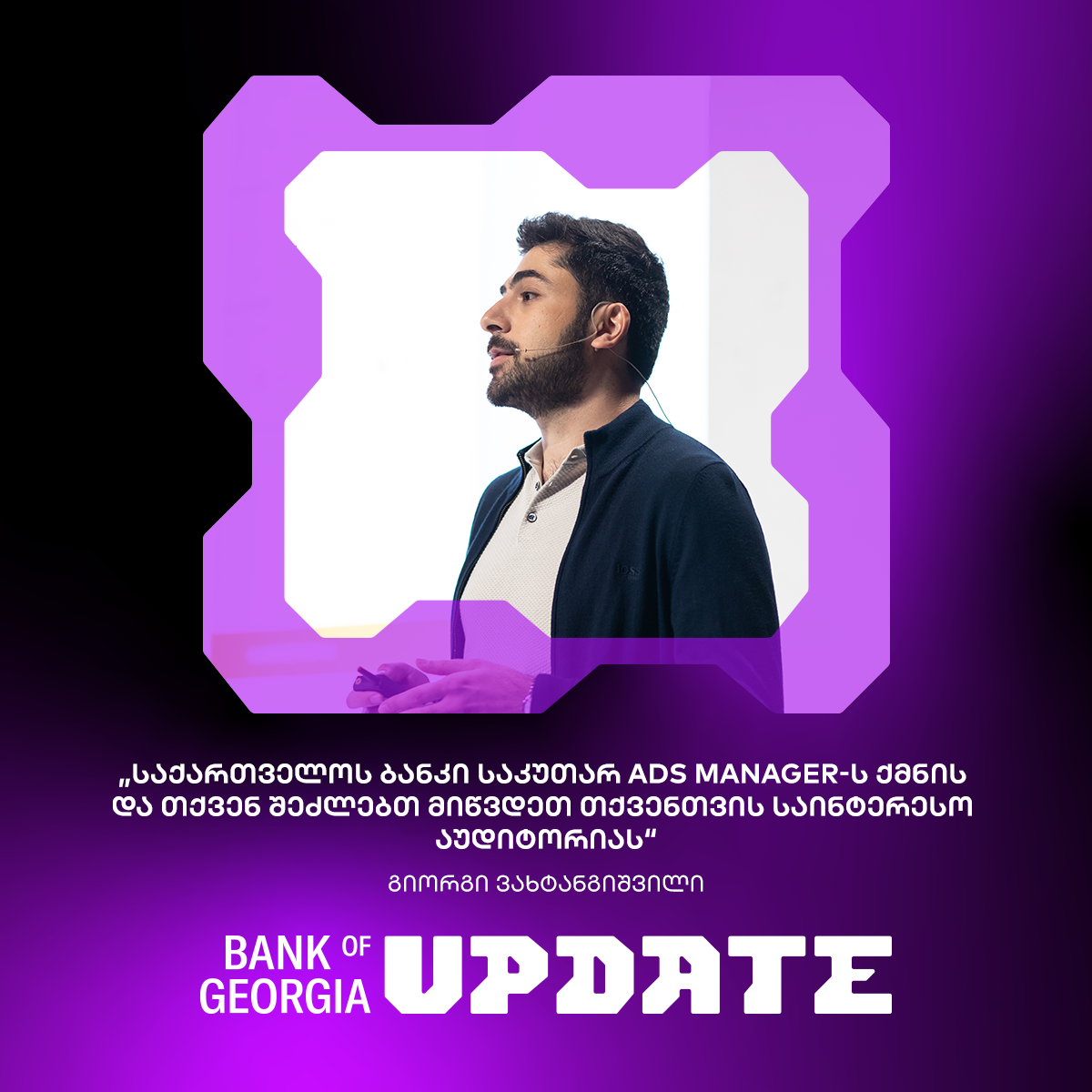 4. Api.bog.ge - Giorgi Kintsurashvili, Head of Digital Banking Eco System Service of the Bank of Georgia
Every online store tries to offer the easiest way possible for customers to purchase a product online. Bank of Georgia API services help businesses in this.
The website Api.bog.ge combines various API functionality, payment methods and buttons. With their help, online stores can offer customers as diverse payment methods as possible, manage sales and most importantly, make it all safe and secure.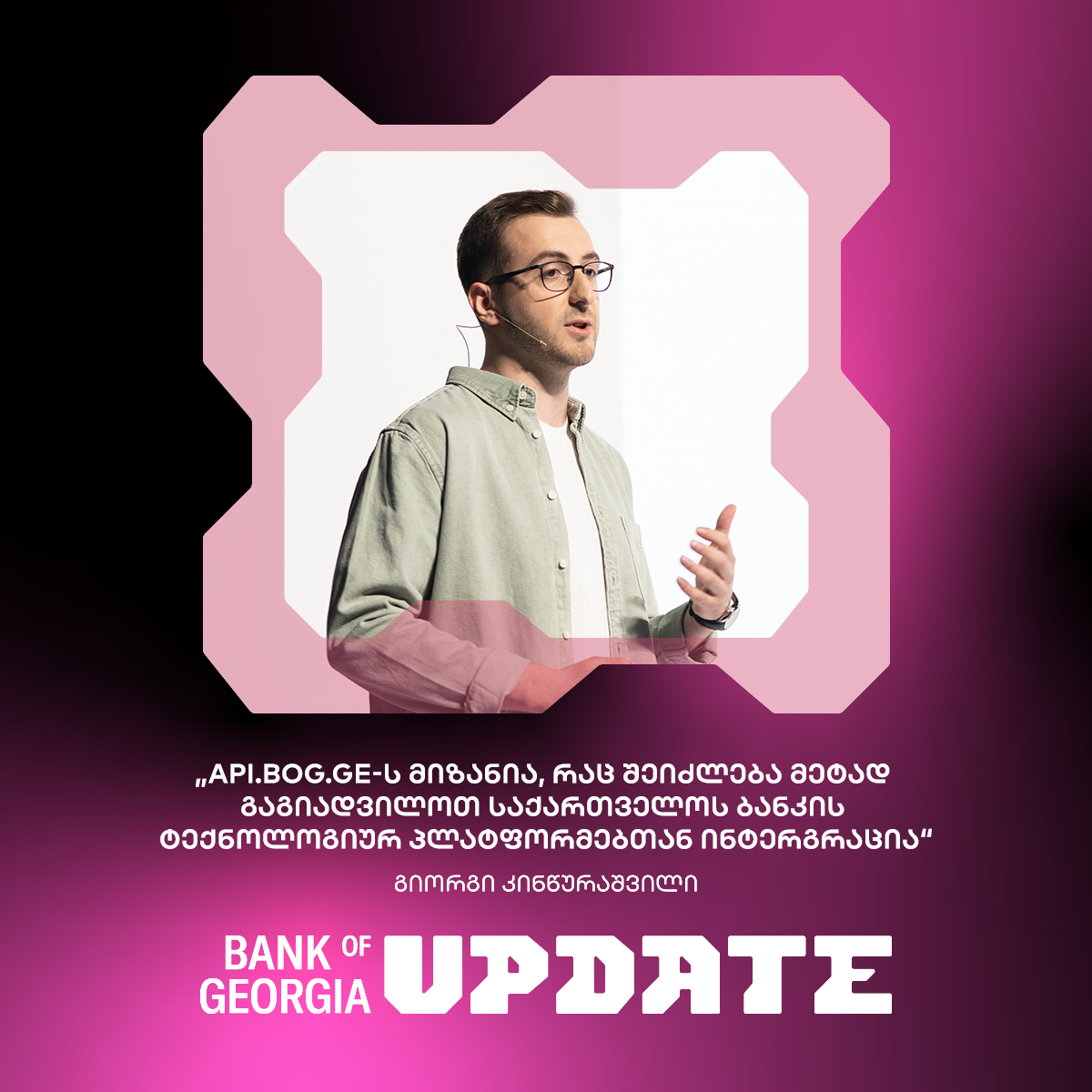 Payment methods, which the business will be able to integrate into its own digital channel, with the help of api.bog.ge, include card payment, internet banking, PLUS and MR points, Apple Pay, online installment purchase. All these payment methods can be added from api.bog.ge with one integration.
5. Part by Part - Tamar Begeluri, Bank of Georgia Individual Credit Product Perfection Tribe Leader
"Part-by-part" gives you the opportunity to select the desired item (s), buy today and start paying from next month, in part.
On the one hand, it allows the customer to buy more items easily and flexibly, as he will be able to split the fee(s) of his chosen item(s) in installments over several months, without any interest or commission.
It is a completely digital process that is easy for businesses to integrate and, as a result, facilitates their development.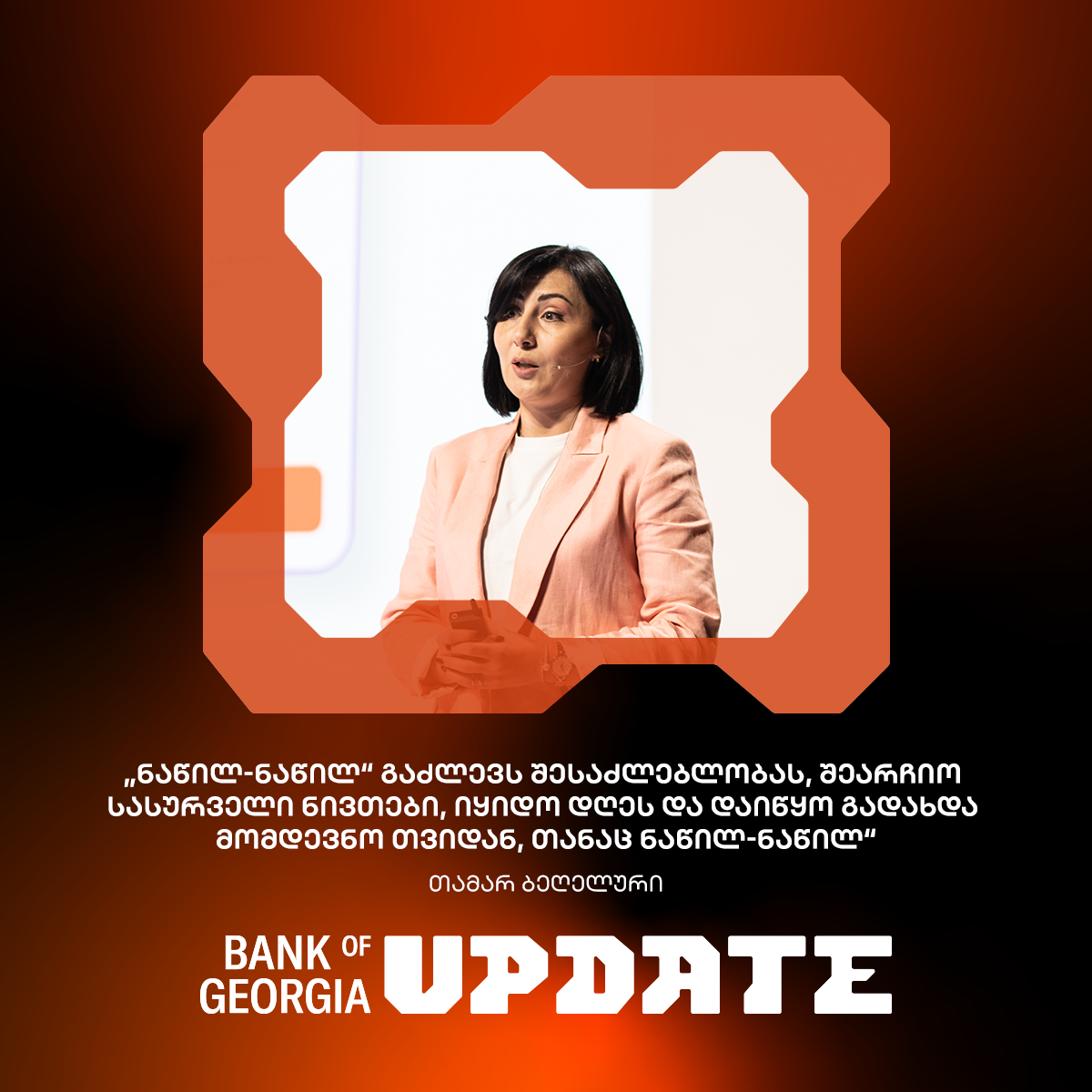 This payment method can be used both in digital channels and in physical stores by QR checking. In part, it gives the customer the opportunity to buy even a low-cost product (from 45 GEL) in part. And moreover, be able to buy several items at once instead of 1.
Part-payment is a new payment method, which is even better than paying your own money in full (BNPL - buy now, pay later type product, but even more innovative)
6. Business Internet Banking - Lika Tavartkiladze, Bank of Georgia Digital Product Owner
Bank of Georgia is creating a lot of new digital opportunities in terms of business support. It is possible for a business to open an account with a Bank of Georgia online, without leaving home, using a digital business card, using API services, which include a stock management platform, an accounting platform, and an enterprise management platform; It will be possible to get a business loan online, etc.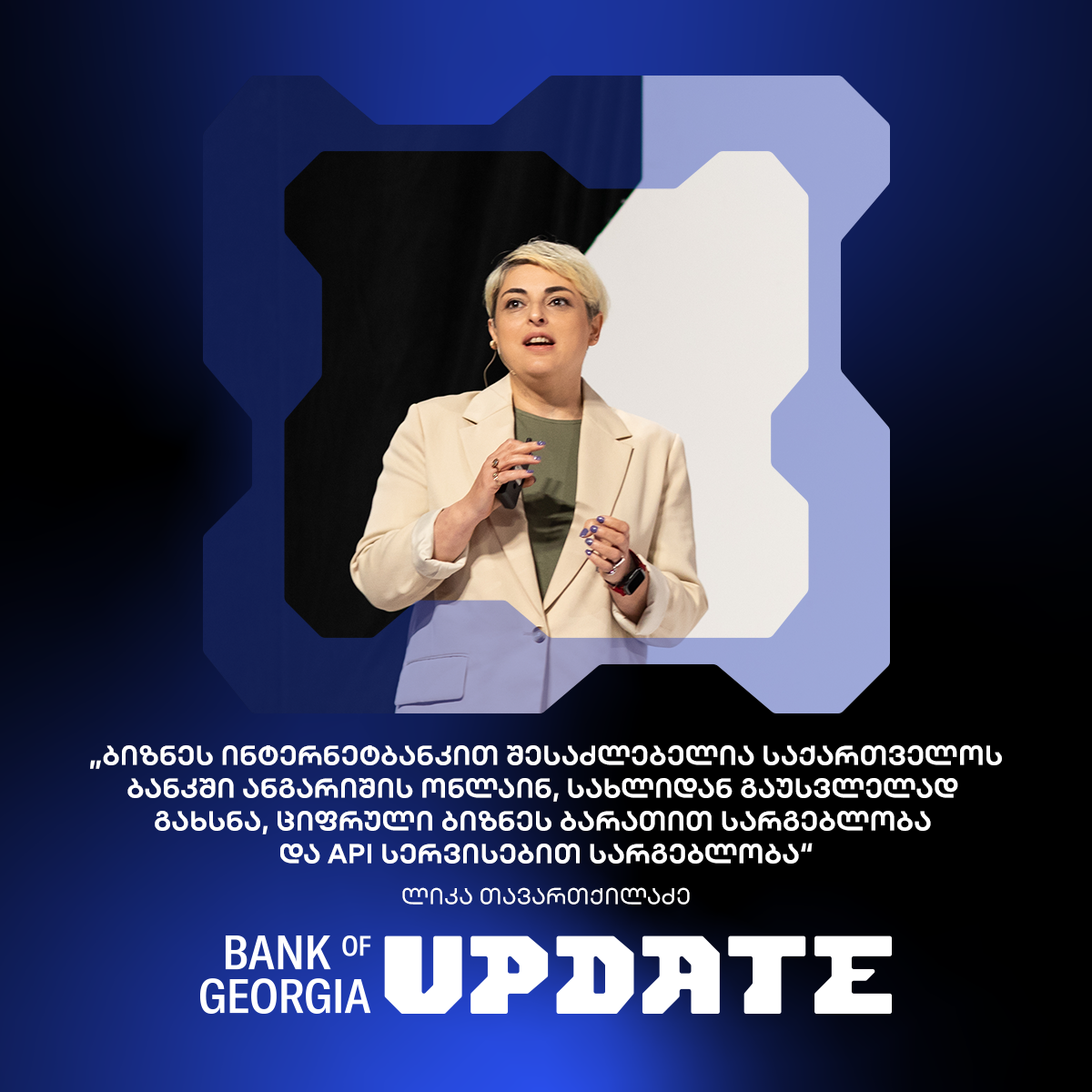 7. Design system - Ana Saralidze, Deputy Director of the Banking Digital Services Department of Georgia; Data Lapiashvili, Head of Software Development, Bank of Georgia
Bank of Georgia Design System is a pre-made visual elements platform and rule guide that simplifies the creation of digital products. With the help of the design system, it becomes even easier to create clean, symmetrical and consistent designs and digital products.
The design system is completely digital, though it is created by humans. The Bank of Georgia team is constantly researching, and observing small and insignificant details at a glance, resulting in a kind of UI / UX "library" whose design elements are easy to use, and which can be used to create digital products for the bank in any channel (website, application, Facebook, ATM, etc.)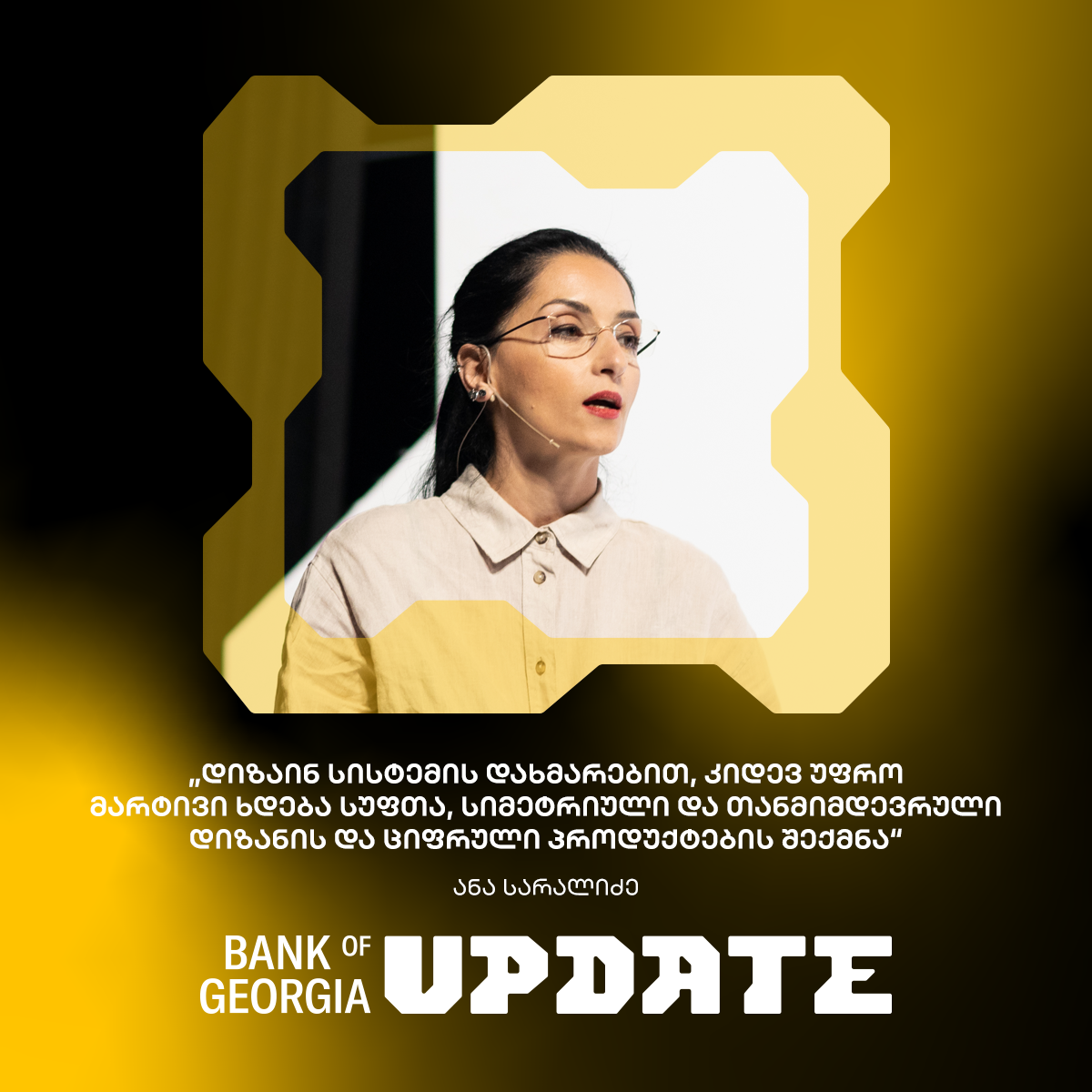 For the user, this creates a unified, intuitive experience across all channels. For the bank, this means a much faster pace when working on new products and the flexibility to make changes when needed.
Using a design system makes it even easier to create digital products that are constantly evolving, growing and improving, and most importantly, never stopping.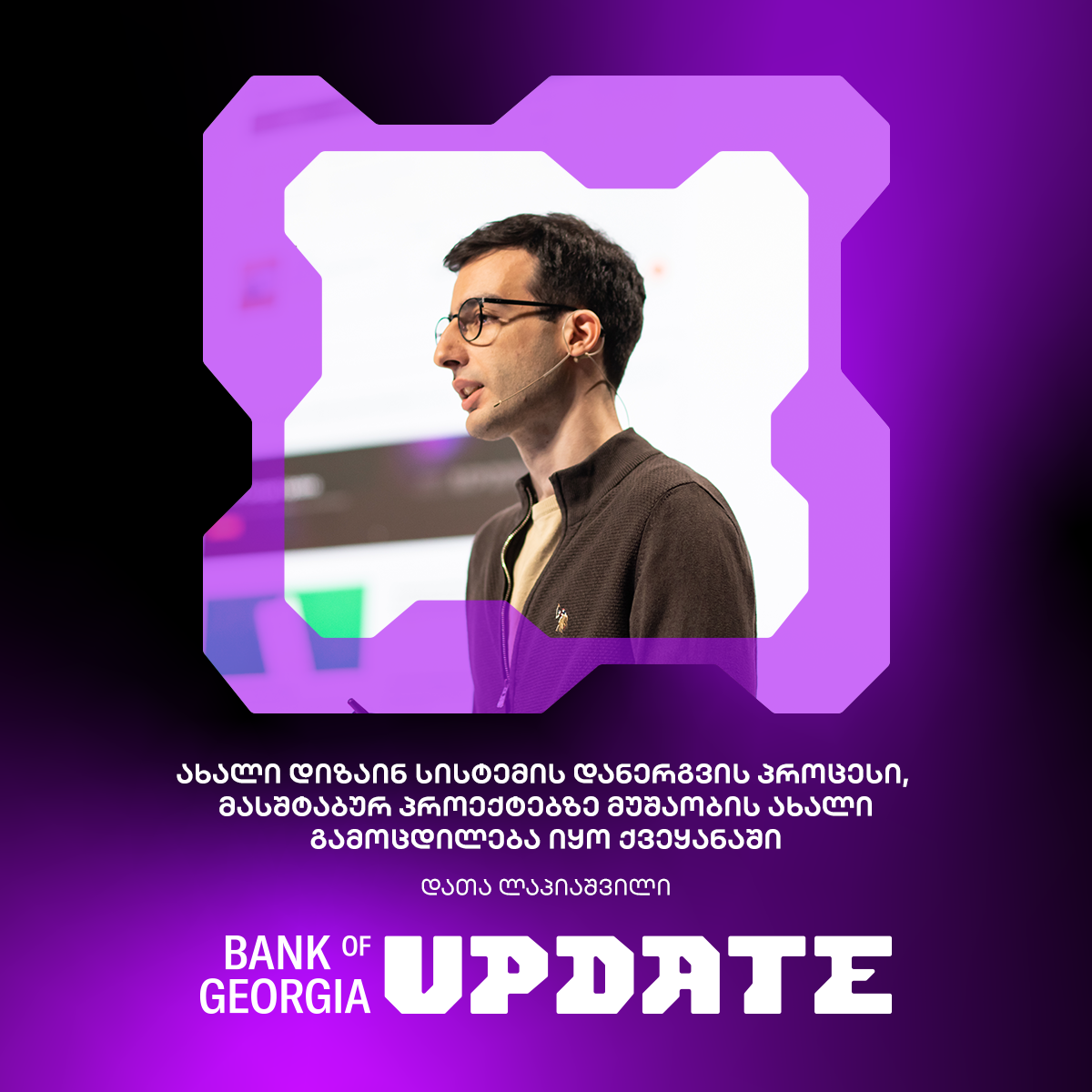 8. Georgian Speech Technologies - Nikoloz Mamisashvili, Leading Data Scientist, Bank of Georgia
Speech technologies are one of the directions of artificial intelligence, which aims to understand and process what is said by a person. The most obvious examples of this are Amazon Alexa, Apple Siri and Google Assistant.
The utilization of voice assistants has been increasing in recent years and this increase is especially noticeable among young users. In this exciting era, we live in Georgia and speak a language that has a unique script. However, there are only 4 million Georgian-speaking people in the world, and the number of digital texts is much more limited than in the case of popular languages. Therefore, the development of Georgian speech technologies is not attractive to technology giants. However, without technology, language in the digital world can not only evolve but also not survive.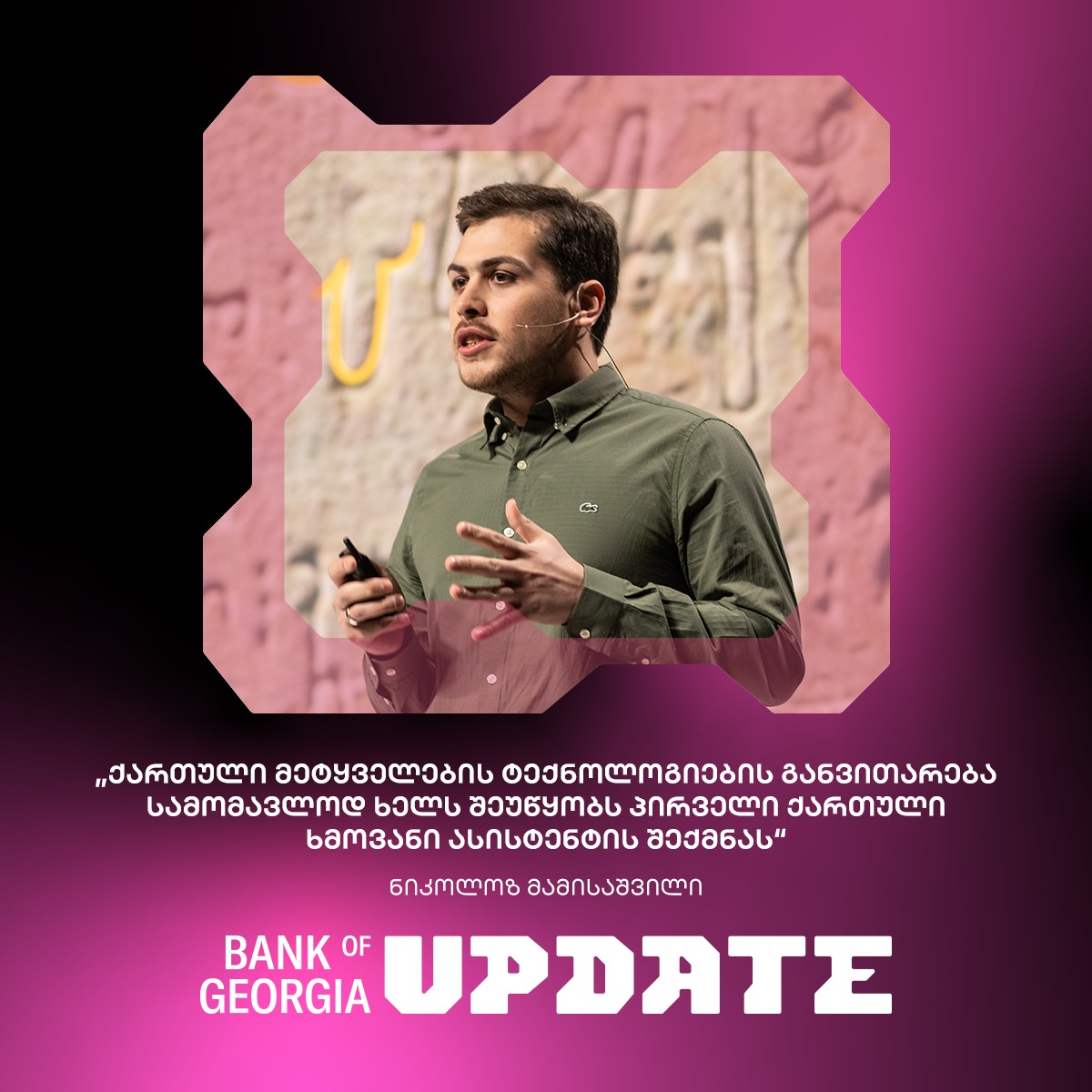 That is why the Bank of Georgia has set itself the task of developing Georgian speech technologies. This will help to create the first Georgian voice assistant in the future.
9. Application for schoolchildren - Nino Khorguani, Director of Retail Management Department, Bank of Georgia
The Bank of Georgia has decided to create a new digital product for its most important segment, the most digital generation.
This is the first application for schoolchildren in Georgia, created by the Bank of Georgia for adults. The app will be tailored to the life interests and desires of the teens. It will be a simple, fun app loaded with small financial items. More specifically, the app combines the following interests: entertainment, gamification, socialization, education (including financial)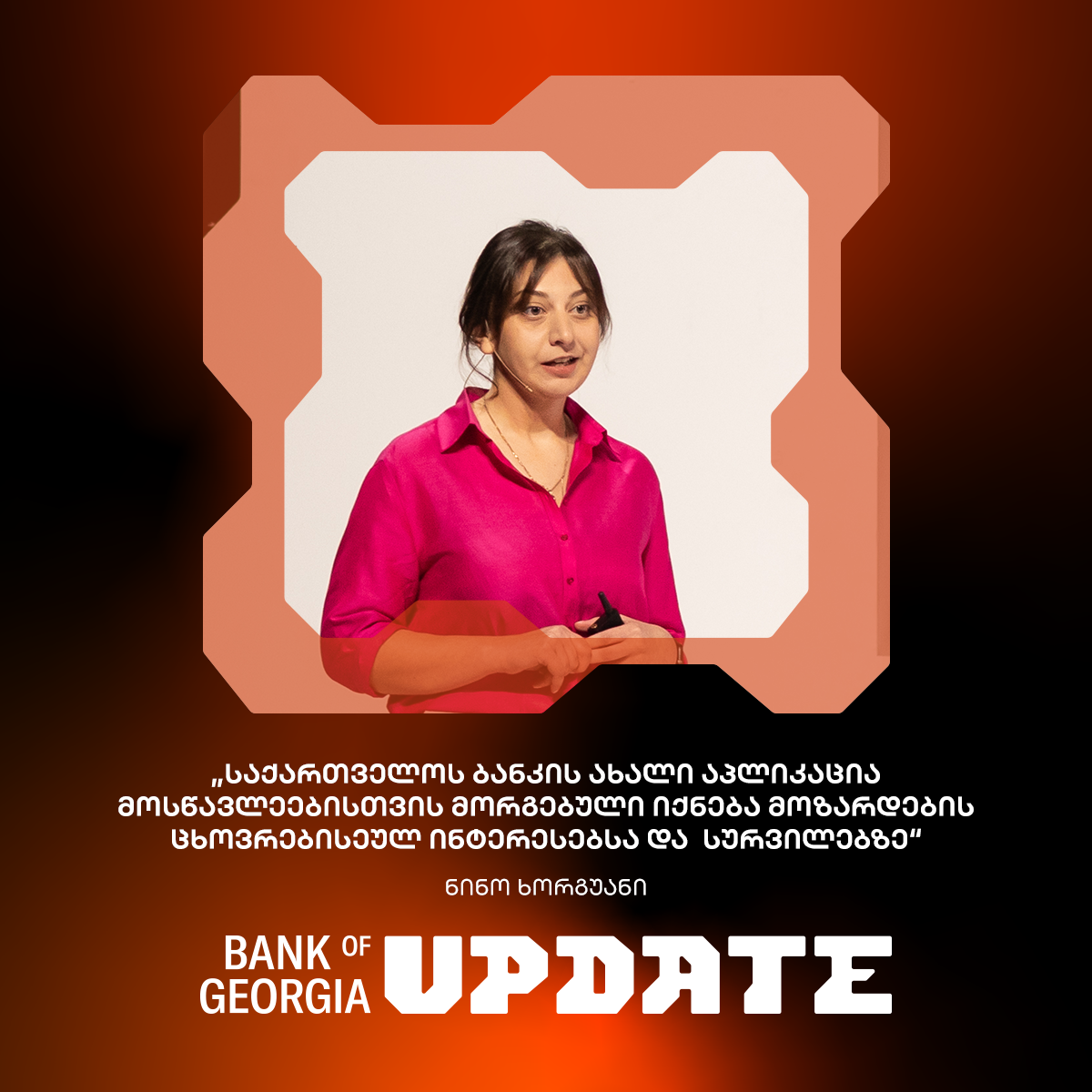 At the initial stage, the application will allow students to manage their own pocket money, replenish their balance, make transfers, and take advantage of various, interesting offers for them. In the next stage, students will be able to set a goal and learn to accumulate, learn to manage their own money, and receive assignments and incentives.
Adults have been involved in the process since the idea of the app emerged, the main question being what kind of app the kids wanted. In order for the app to be as tailored as possible to their interests and desires, adults will be involved in all subsequent stages of both testing the app and adding features.
10. Fast and flexible platform for digital products - Vazha Mantua, Deputy Director of the Information Technology Department of the Bank of Georgia
In addition, Vazha Mantua, Deputy Director of the Information Technology Department of the Bank of Georgia, spoke about a fast and flexible platform suitable for digital technologies. Due to the fact that new trends are becoming more and more active and technologies are constantly evolving, the Bank of Georgia plans to modernize its monolithic architecture.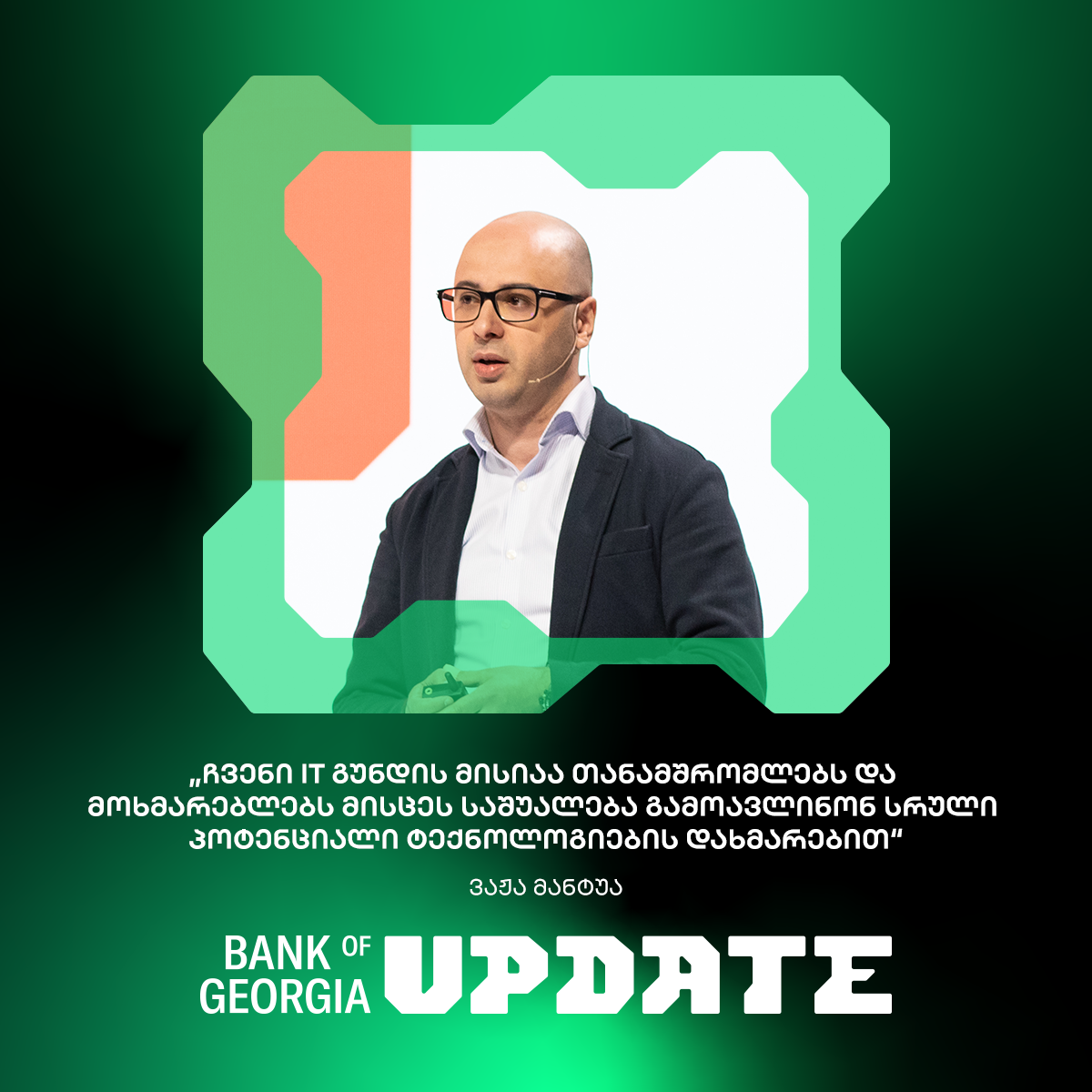 In the end, within the framework of the event, the Bank of Georgia decided to give a tech gift to the guests, which would be unique and expressive of the tech community. Therefore, they created different tech human characters, converted them to NFT, and then matched up to 200 guests by receiving the NFT. Accordingly, the guests became part of the technological event.