Emocia Wines - Jewelry Made of Wine Stones
Emocia Wines is a startup founded during a pandemic, which creates handmade accessories, associated with wine and grapes.
CBW had an interview with its founder, Tamuna Abuladze.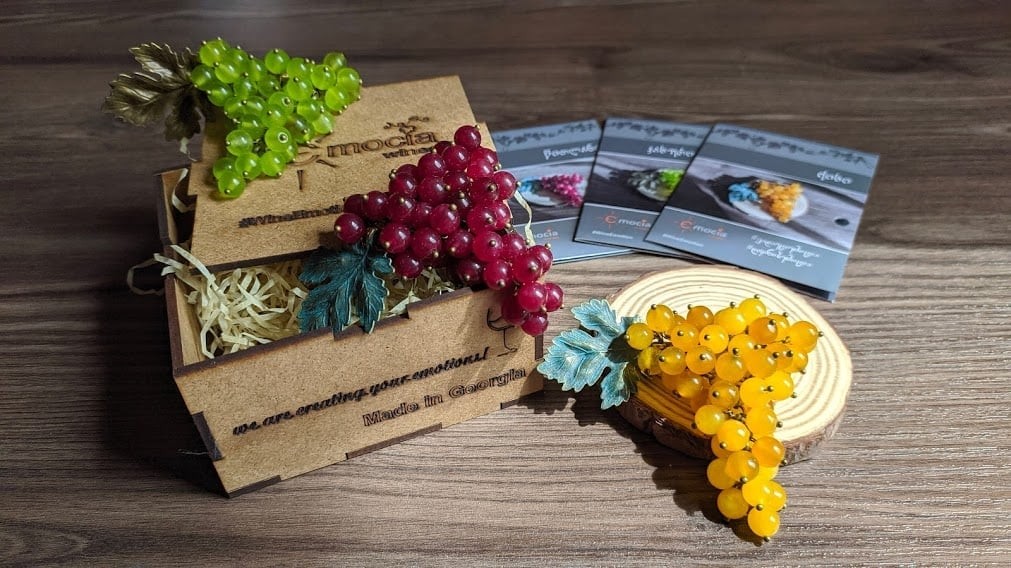 "I came up with an idea of creating Emocia Wines after graduating from Kabistoni Wine School. When I took an in-depth look at this field, I realized I could not make my own wine yet, however, I could have my own grapes. By that time, I already had my own brand - Emocia Handmade Jewelry, which makes handmade accessories from natural stones. Therefore, I decided to make grapes from natural stones. This is how our famous grape brooches were created - made of natural gemstones, which represent analogues of Georgian endemic wine varieties.

Later, I became interested in wine stones, which are not known by many people. In fact, wine stones are tiny crystals that oenologists call tartrates, while they are wine stones for wine lovers. Actually, they are potassium salts of wine acid.
Tartaric acid is the acid that is generally found in grapes in all wines and in turn contributes to the structure, balance, and aroma of the wine. When the temperature of the wine drops sharply, tartaric acid looks like diamond crystals, which can be found in the bottom of the vessel, or on the cork. It is a very useful element and the richer the wine is in potassium, the more useful it is."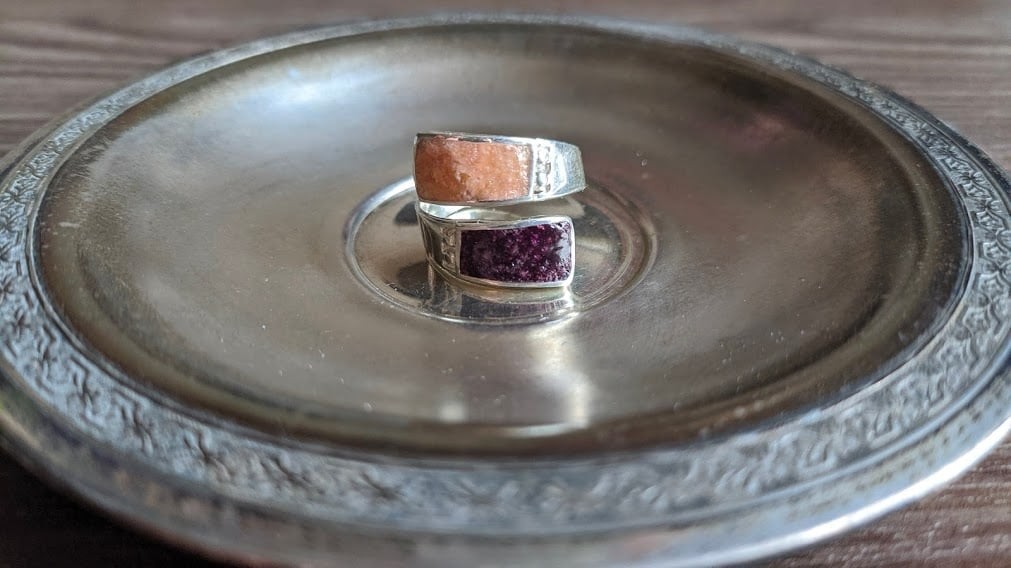 During the pandemic, Emocia Wines was not able to open a store, nor were there any exhibitions or festivals.
"There were no tourists, therefore, we transferred the entire platform to the online space, and we went digital. The brand was popularized and sales were made through E-commerce. I used every minute of the pandemic to our advantage. During that period, I had a lot of time to refine products, create a new collection, think more, and actively negotiate with partners.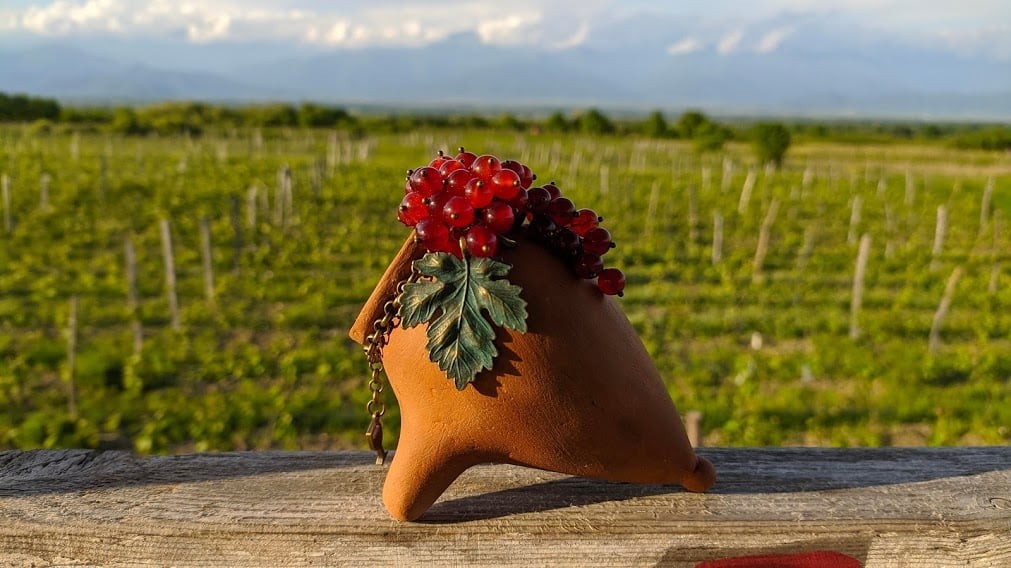 As a result, the brand is quite famous both in Georgia and abroad. The company exported our products to France, UK, and the U.S.
"The core concept of Emocia Wines lies in wine, so I try to create as diverse a product as possible. The first item of the collection was grape brooches - bunch of grapes from different vines.
Currently, we have 10 varieties of grapes and each one of them comes with its own little passport in 8 languages, which tells the story of Georgia as a homeland of wine. We also have wine-themed bracelets, necklaces, key hangers, premium gifts for men and women, which are presented as souvenirs."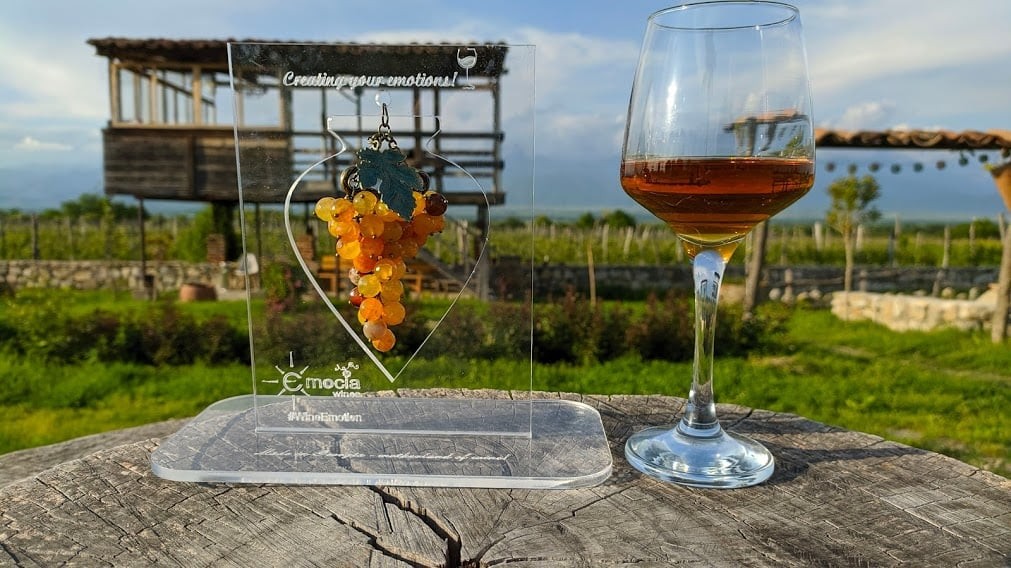 The latest product of the collection is Wine Diamond, which is an unprecedented product in the world - jewelry made of wine stones.
"The manufacturing process is quite complicated and time-consuming, however, I always make accessories with a clear mindset, and think of a person who will wear this jewelry. The main concept of our brand is the transmission of feelings, therefore, the preparation process should be filled with positive emotions. Every piece of jewelry is made only by me and I have developed my own methods through this experience."
As for the stone jewelry of wine, "Sakpatenti" protects the secret of its production.
"The bunches of grapes should look as real as possible, therefore, the process requires both physical and mental involvement.
In the process of making, I prefer to be alone and very carefully attach the wine stone to the highest quality silver. Even one small mistake can damage the whole product. Creating a Wine Diamond is the hardest part because it involves several stages and requires a lot of energy."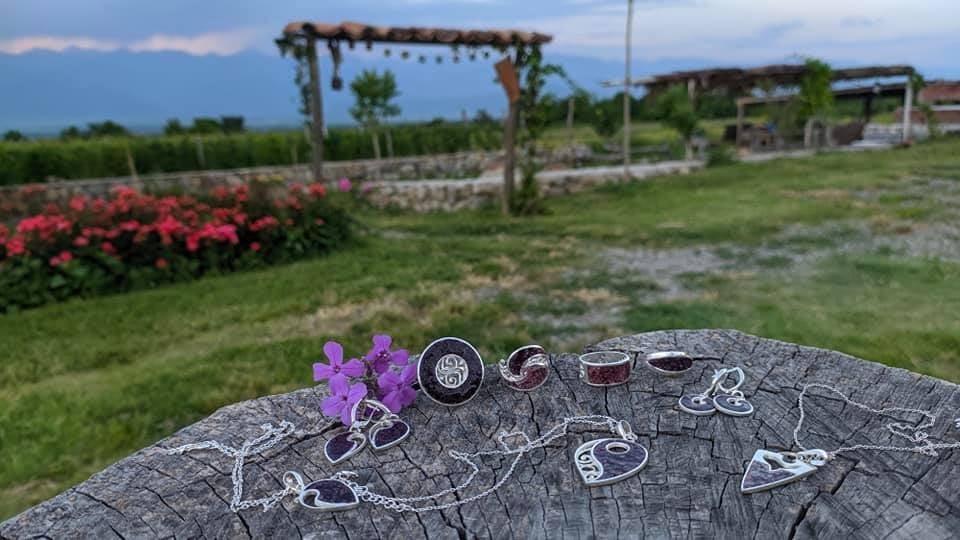 As for the future plans, the brand plans to create an additional product, which is currently delayed due to economical reasons.
"Accessories I create today, I do it with my own resources and the time has come when we need additional financial resources for more development. In terms of Winde Diamond, I plan to create original jewelry designs as well as add a men's line. In 2022, we are going to be focused on export to introduce Georgia to the whole world not only as a homeland of wine but also the country in which first wine stone jewelry was created!"