New, Sunny, and Bright Residential Complex at Gazapkhuli Street
Domus has started construction of the new, sunny, and bright residential complex in an eco-friendly environment, near to nature
Domus Gazapkhuli - the place, where living with the feeling of the Spring is possible during all four seasons. The new project of the company is located in one of the central districts of Tbilisi, Saburtalo, in the quietest and greenest place, on Gazapkhuli (Spring) street.
The 22-story residential complex consists of 2 entrances, where 230 apartments are meant. 3rd floor is stipulated for the underground parking, providing places for up to 300 vehicles. The project is fascinating, especially with the recreational space spread out over 4000 sq.m. with a variety of entertainment and resting areas; In the yard, a creative garden for children is also planned to be arranged. The investment made in the project is fully aimed at creating an ecologically clean and cozy development.
It is important that at the initial stage of sales, Domus is offering customers a special price, which never is repeated during the next months. Internal, interest-free, 30-month installments and additional discounts bound to the single payment are also additionally valid.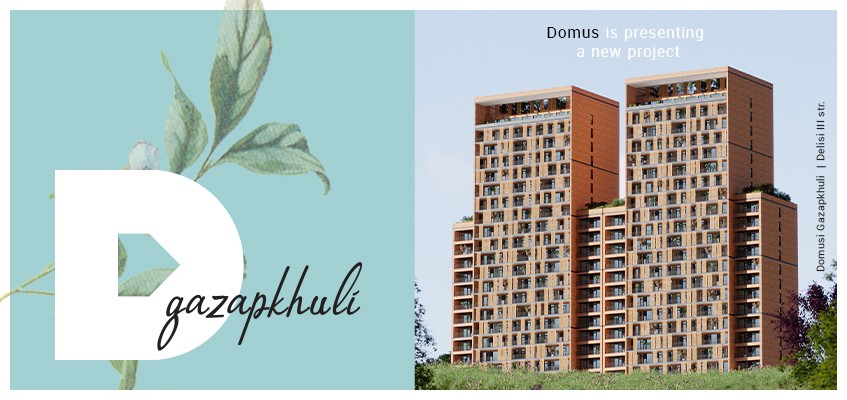 And finally, the most attractive, Domus is presenting a new project with as beautiful as a spring proposal – the first 30 buyers purchasing apartments with an area of 100m2 and more, and paying a minimum deposit of 30% of its value, will be gifted with a 2-person trip to the Maldives.
Domus is the brand that sets the quality standards in real estate by itself and introduces innovations to the Georgian market. If you have ever been in Domus buildings, even one glance is enough to reveal and spot all the advantages. Behind the name of Domus the professionals of great responsibility stand, whose main motivation is to welcome the people with a safe and comfortable living environment in their future homes.
"Why Spring?.. Spring is a remarkably beautiful Georgian word, Spring brings life and opens a new page in existence, together with coming of Spring, the desire for something new is awake in us, and the most important - the new project of Domus is located at the Gazapkhuli (Sprong) Street. Since the Maldives is always sunny and warm too, we decided to gift the first 30 buyers of the Domus Spring residential complex a 2-person trip. You rest, we build! Moreover, with the purchase of an apartment, our relationship has just only begun, a long-term and harmonious coexistence are awaiting us"- said Tatiana Katamadze, head of the marketing at Domus.
The Company Domus was founded on September the 15th, 2006. Our mission is to create an environment where anyone feels in harmony. Since the day of its establishment, Company Domus implements innovative projects where all needs and wishes of the customers are always taken into mind. Distinguishable architectural appearance and interior, functionality, premium quality building materials, and high safety standards are an integral part of our construction projects and now are part of Domus residents' everyday life.
Architecture inspired with life energy and human imagination.