Coffee Factory Capsulo from George Khmaladze Studio Nominated at EU Mies Awards
Coffee factory "Capsulo" from George Khmaladze Architects Studio was a nominee of Eu Mies Awards 2019. Factory was a nominee but it did not make in top 5 finalists of Eu Mies Awards. The winner of international competition will be announced in April 2019.
"Capsulo" is a Coffee production plant, office with small cafe and coffee exhibit spaces – all under one giant undulating green roof and monolithic concrete enclosure.
Located on a highway connecting city to the airport, the site is sparsely developed. Surrounded with fields and pine trees. the project houses coffee production plant, its offices, coffee tasting and small coffee exhibits.
Inside, all programs are arranged in a continuous unobstructed space, with glass partitions as boundaries in between. From the highway, the building is a homogeneous concrete folded volume with no visible openings that would define its programs, on the back side it opens up towards the pine forest. From above, it blends into surroundings by vast green roof, where occasional openings in forms of atriums, terraces and skylights bring natural light indoors. This reduces an impact of a large building footprint visible from the planes taking off and landing next to the site.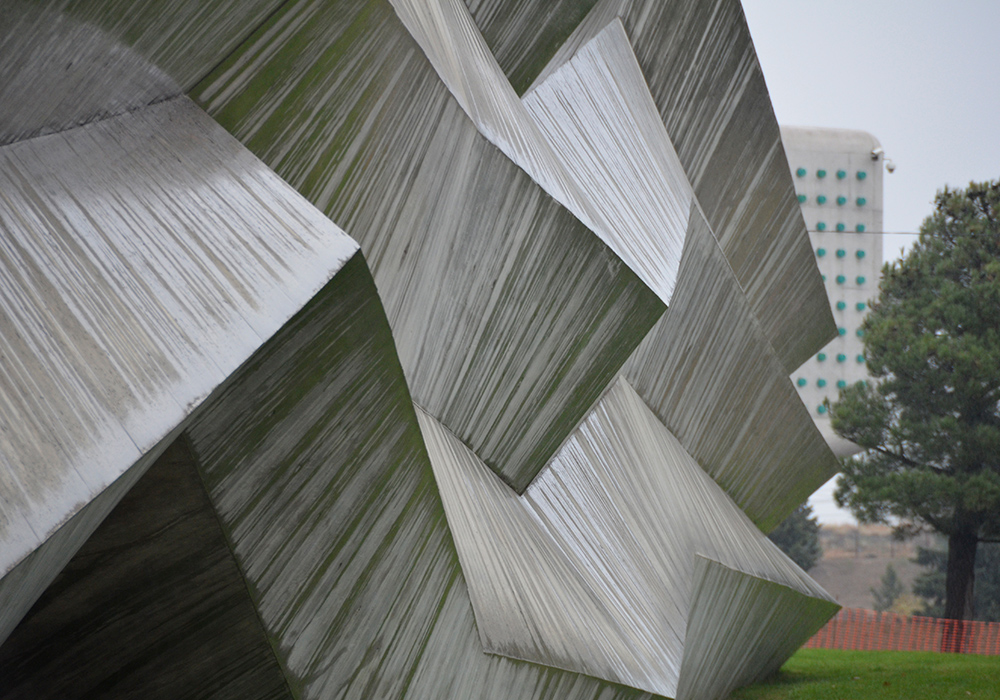 The city required a building that escapes the regular factory appearance, the client – a strong visual identity. The program required to fit both, coffee plant, office and public areas with coffee tasting and small exhibits.
As a response, a box-like volume of a plant adjusts to program components by wrapping around. It stays high to fit equipment and lowers where possible. Same with office, the shell wraps around work, meeting and socializing spaces arranged on floors suspended on various levels. The three atriums filled with vegetation, and numerous skylights bring daylight to spaces below.
From the highway, the monolithic mass with no visible openings is an object of curiosity. While it's internal spaces are all oriented towards the park and the sky by means of two terraces.
The all-concrete facade folds into double curved geometry. Its appearance changes during course of a day, following sun movement producing a play of light and shadows.
A large main lobby located between the two of the green atriums. The multilevel platforms for coffee exhibits and lounges are placed along the stairs and ramps leading to the coffee tasting cafe and the office spaces.
The concrete structure with one way waffle slab spans up to 16 meters to create large unobstructed spaces. Steel floor slabs are suspended from the roof slab on various levels with use of steel rods. The cast in place concrete folded facade which ages well, is a double wall with insulating layer in-between. The 3,680 sqm green roof acts as an additional thermal barrier to the roof insulation. The roof is intended to grow vegetation found around the site with wild grasses and plants, to blend with the context and require less maintenance, BM.ge reports.