Tsinandali Estate and Radisson Collection to Host Enriching Cultural and Educational Events This November
Under the initiative of Silk Hospitality, Tsinandali Estate and Radisson Collection are proud to announce a series of special cultural and educational programs from November 3rd to November 30th. These series of events are supported by general partners SOLO and Visa. Additionally, this enriching experience is made possible with the support of Lexus Georgia.
Throughout the month, attendees will have the opportunity to engage in various educational activities that celebrate and honor Georgian arts and culture. As part of this celebration, a special offer will be available for those paying with a SOLO Visa card: a 20% cashback on room and restaurant expenses at Tsinandali Estate and the Radisson Collection, with a maximum of 300 GEL.
One of the event's highlights is the gastronomic celebration at Tsinandali Estate, where guests will have the unique opportunity to experience a feast reminiscent of the 19th-century traditions of the Princely Chavchavadze family. This authentic table, curated by Silk Hospitality's brand chef Irakli Asatiani, will offer a true taste of history, recreating the elegance and culinary heritage that were hallmarks of the Tsinandali Estate in that era. Additionally, there will be pairing of cheese, wine, and chocolate products from Tsinandali Estate's partner wineries and producers.
In addition to hotel guests, these cultural events are also accessible to SOLO Visa card holders, who have the exclusive opportunity to purchase tickets through tkt.ge.
To explore more about this month's program, please find the event program here: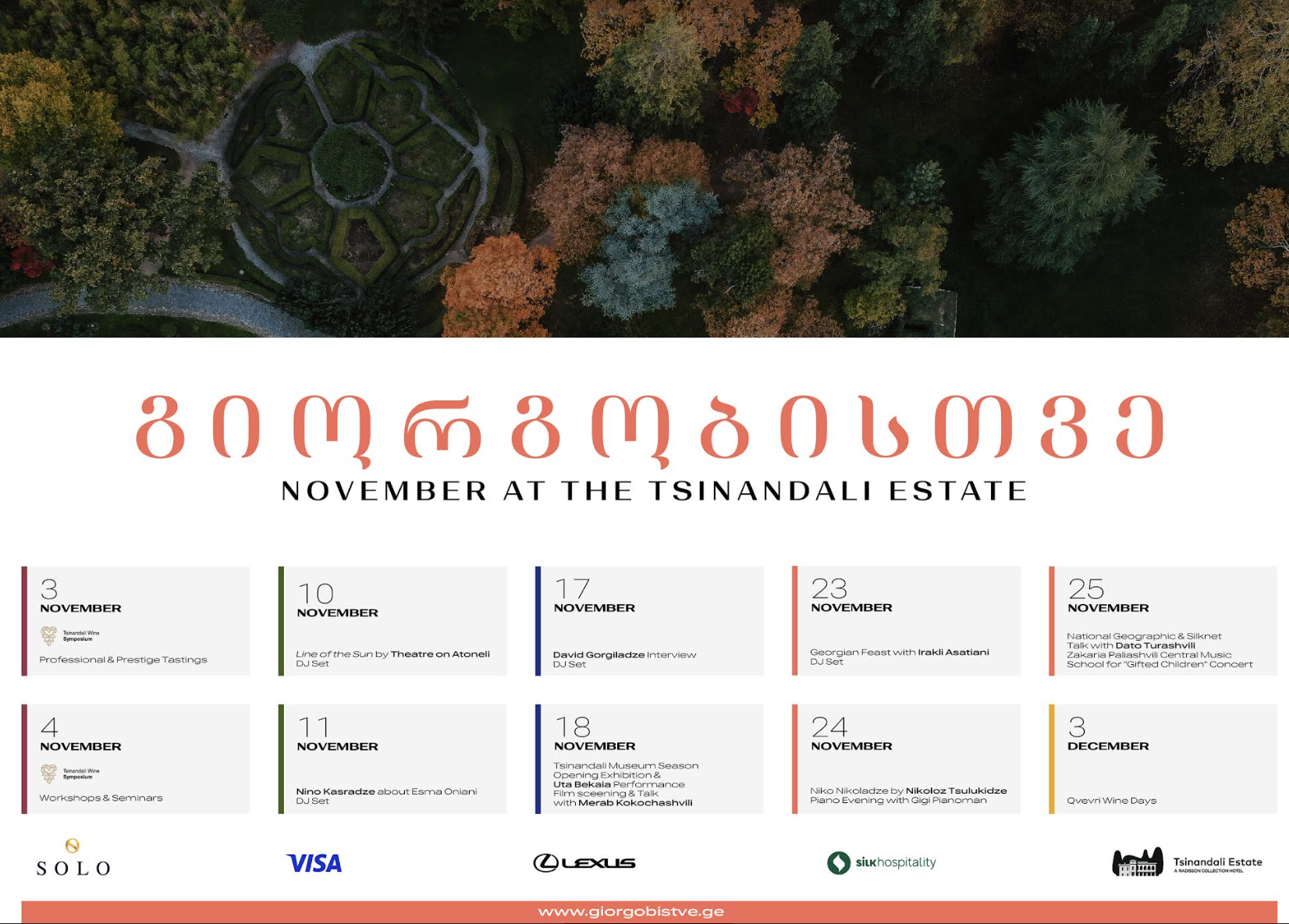 Giorgi Kharabadze, General Director of Tsinandli Estate and Radisson Collection, states, "In early times, November in Georgia was known as 'Giorgobistve'. In keeping with tradition, Tsinandali Estate and Radisson Collection are celebrating this period with a series of special events. We are excited to host leading Georgian artists and prominent figures in cultural and educational fields. Here, at Tsinandali Estate, Aleksandre Chavchavadze often hosted global art and culture figures. We are committed to continuing this legacy by celebrating 'Giorgobistve' annually in November. This endeavor is further enriched through our partnership with SOLO, Visa, and Lexus Georgia, enabling us to offer our guests a wide array of exciting experiences."
This November, Tsinandali Estate and Radisson Collection invite you to immerse yourself in the vibrant cultural, educational, and culinary landscape of Georgia.
Ticket sales will commence on November 1st. For booking hotel rooms, please contact the Silk Hospitality contact center 032 2 402 222.