Georgian Investments in the Production of Ferroalloys of Kazakhstan
Davit Kemertelidze's business activity went beyond the borders of Georgia. In the Kazakh city of Karaganda, the company YDD Corporation has launched the fifth largest factory in the world in the field of ferrosilicon production, worth 95 million dollars, for which Davit Kemertelidze received the "Order of Friendship" from the President of Kazakhstan.
YDD Corporation - $ 95 million investment, 550 employees and 180,000 tons of high quality ferrosilicon produced annually - this is how we can describe the fifth largest ferrosilicon producer in the world, launched by Georgian and Kazakh investors in Kazakhstan in July 2019.
Davit Kemertelidze, together with his partners Yerlan Nigmatulin and Jarmohamed Apaz, has successfully launched a ferrosilicon plant in Karaganda, and the products produced there are now exported from Kazakhstan to 37 countries.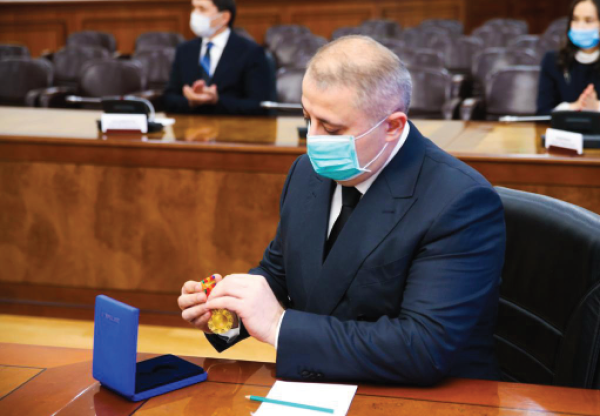 One year after the launch of the plant, the President of Kazakhstan visited the local production, personally thanked Davit Kemertelidze for pursuing an active investment policy and awarded him the Order of Dostiki II degree. This award is also called the "Order of Friendship" in Kazakhstan. According to President Kassym-Jomart Tokayev, such people establish ties between Georgia and Kazakhstan.
Davit Kemertelidze started his business career in 2000, after graduating from the university, managing a law firm, and since 2008 he has been in the management of Chiaturmanganum Georgia. In addition to ferroalloys, his interests include agriculture - blueberry plantations in western Georgia, and apple and plum orchards near Tbilisi. The greenhouse operated on the basis of the ferroalloy plant uses the heat received from the factory.
''The competition in Kazakhstan is great in this field, but the advantage of our factory lies in its high technology and environmental friendliness. As you know, our factory produces high grade ferrosilicon, FeSi-75. The plant produces 180,000 tons of products annually and employs 550 people.
In addition, the plant is equipped with modern technologies, which minimizes the harmful effects on the environment. Exhaust emitted during production through these installations is 99.8% cleaned of harmful gases. The wastewater treatment system filters out industrial dust and converts it into a product, specifically microcrystalline, which is used in the construction industry to produce high quality cement.''-says David at Forbes.ge.
''I have ferroalloy enterprises in Georgia. My company "Chiaturmanganum Georgia" has been actively operating on the market since 2008, one of the latest projects of which is the agglomeration plant with an annual capacity of 240,000 tons. It has been in operation since 2019. The company employs 550 people.
First of all, it must be said that a lot of attention is paid to investment projects in Kazakhstan. The legal framework for the successful implementation of such projects has been created and a special tax regime is in place. Kazakhstan is also rich in raw materials, which are needed for the production of ferroalloys,''-added David Kemertelidze.