Letters of Charles de Gaulle in Tsinandali Museum
Tsinandali Museum received 16 letters of Charles de Gaulle and items belonging to de Gaulle family.
The addressee of letters and owner of the items, Roger de Gaulle, was a nephew of General de Gaulle, leader of the Free French Movement, and member of the French Resistance.
The letters and items were donated to Tsinandali Museum by the heir of Roger de Gaulle, son of Geneviève de Gaulle-Anthonioz, friend of Tsinandali, the artist - François-Marie Antonios.
"We made the decision to give letters of General de Gaulle to Georgia. Here, in the Mecca of art and culture, exhibitions are held of modern paintings and sculptures. Prestigious international musical festival also is established here. Deep and lively bond is felt with France, Historical connections are sensed between General de Gaulle and Georgia, between our two sovereign countries.", noted artist, François-Marie Antonios.
The gifting ceremony was attended by the president of Georgia, Salome Zurabishvili, French ambassador to Georgia, Mr. Diego Colas, and heir of de Gaulle family.
Guests of Tsinandali Museum will be able to explore the part of de Gaulle family inheritance. Part of the legacy, which will remain in Georgia, will be a symbol of the struggle for freedom and civil disobedience.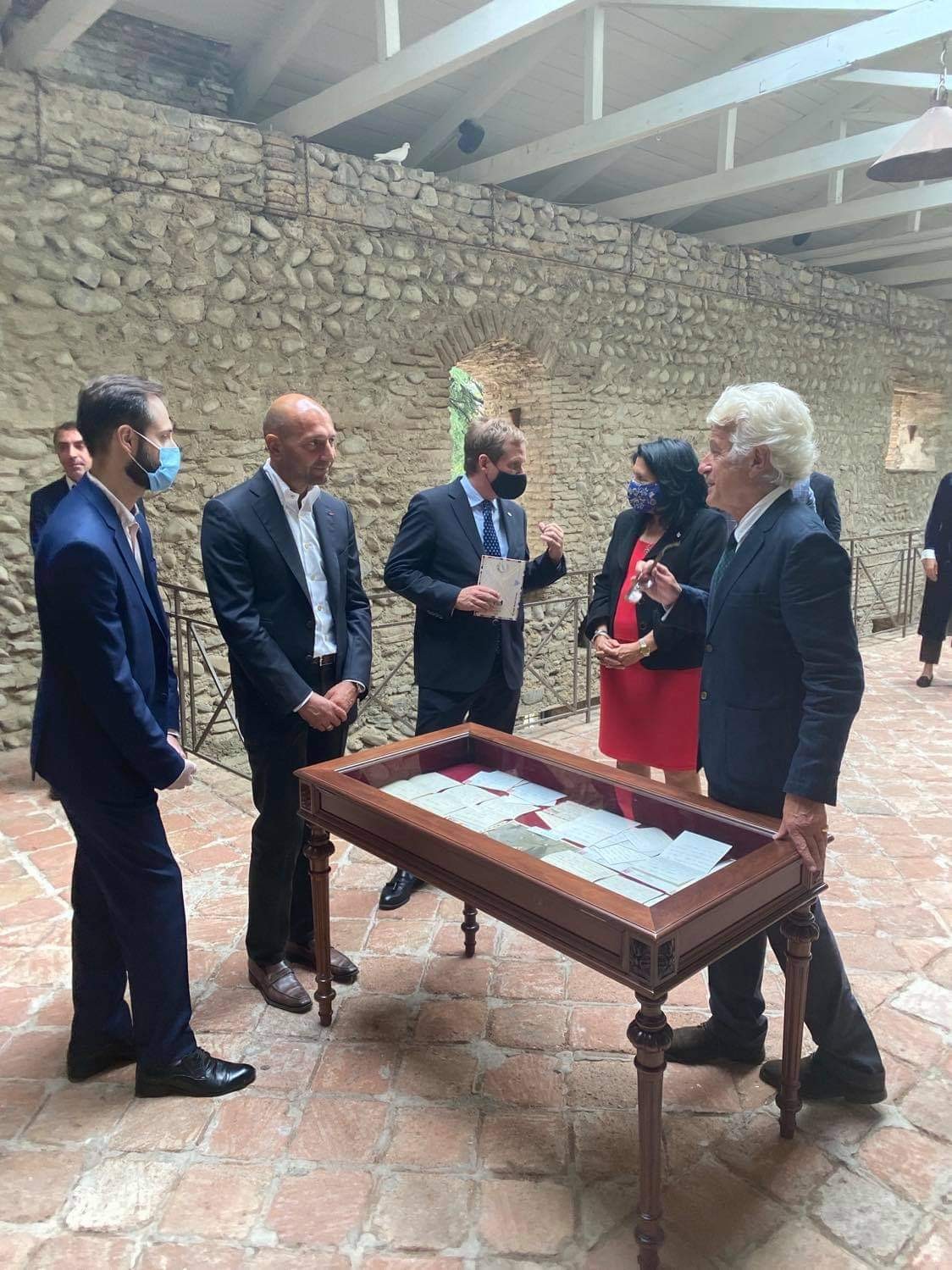 The Alexandre Chavchavdze Museum received a gift of the General de Gaulle's manuscript letters from the heir of the de Gaulle family Francois Anthonioz. We have added many exhibits to the collection of the Museum during the past decade, among which are the artifacts of the Alexander Chavchavazde times as well as the objects of heirloom belonging to the members of the Chavchavadze family we acquired from private owners and various auctions around the globe. Many of the exhibits were also gifted by private donators. And now the collection will be enriched by the letters of the legendary Charles de Gaulle. - George Ramishvili, Founder, Silk Road Group.
Family of Chavchavadze had strong connections with France. Tsinandali estate remembers several French guests, including Alexander Dumas the elder.
Aleksandre Chavchavadze himself was a chevalier of the Order of the Legion of Honour. Today, another historic bridge emerged between Tsinandali and France, which is another proof of the friendship between France and Georgia.