LinkedIn data show technology workers are leaving India
Talent is flowing away from countries such as India and France and toward nations including the United Arab Emirates and Switzerland, a new analysis of LinkedIn member data shows.
About 0.23 percent of India's LinkedIn membership moved away last year on net, data from the professional profile social network show. Nearly 40 percent of those migrants landed in the U.S., while others shipped off to U.A.E., the U.K., Australia and Canada. About half of all members leaving India in 2014 were working for technology firms, and software engineers, consultants, project managers, salespeople and graduate research assistants made up more than a quarter of those who moved.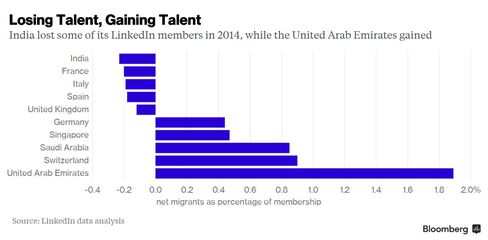 By contrast, the U.A.E. saw the biggest talent influx on LinkedIn's list, with a country membership gain of 1.89 percent. About 28 percent of those fresh workers came from India, while the U.K., Pakistan and the U.S. were other top origins. People moved to the U.A.E. to work as salespeople, marketing specialists and project managers, among other jobs.
Talent migration and economic growth didn't seem to line up last year. For example, India grew by 7.3 percent last year after 6.9 percent growth in 2013, International Monetary Fund data from July show. The U.A.E. did see growth accelerate, climbing to a 4.6 percent pace from 4.3 percent the prior year, based on an recent IMF country update.