A German scientist has tied Pastor Stephan Bernstein to a metal structure. Bernstein is wearing a blindfold and earphones to ensure he doesn't see or hear the machine that's about to punch him.
Don't worry — Bernstein, a 54-year old with a thick moustache and a warm smile, is going to be fine. He's one of 15 volunteers working with researchers at the Fraunhofer IFF Institute in Magdeburg, Germany, to find out what needs to be done to ensure robots don't crush their human colleagues when working alongside each other in a factory.
Collaborative robots — or cobots — need to be configured so they're aware of their fleshy colleagues and slow or stop after an unexpected collision to avoid stabbing skin or slicing limbs. But how hard can a robot hit a human before causing damage? And how does that change when the robot has a sharper attachment on its arm or makes contact with a sensitive part of the body? Those are questions Roland Behrens, a scientist working with volunteers including Bernstein, wants answered.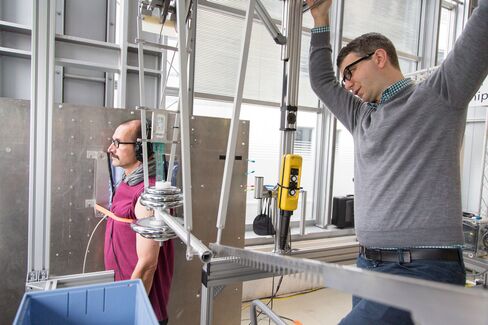 "The best way is to avoid contact in the first place," he said after untying Bernstein from the structure. "If contact occurs, the consequences must be so low that the person can come into work the next day, at most with a bruise but not with an injury or open wound."
There were 158 work accidents involving humans and robots last year in Germany, the highest number since at least 2005, according to DGUV, a German group that's insuring workplace accidents. In June, a robot usually kept in a cage killed a worker at a Volkswagen plant by grabbing and pushing him against a metal plate. More industrial robots, made by companies such as Germany's Kuka or Japan's Fanuc, were sold last year than ever before, according to the International Federation of Robotics.
Germany, Europe's biggest economy with state-of-the-art factories run by the likes of engineering giant Siemens and carmaker Daimler, has a special interest in robot-human safety. The country is identified by the United Nations as "super-aged," with one fifth of the population older than 65. Working-age adults will shrink to as few as 34 million by 2060 from the current 50 million, according to latest government estimates. Robots may be the best way to keep productivity up and people hammering away until they retire, Behrens says. "Robots supporting humans in their work is a great idea, but it has to be safe."
There already exists an industrial robot safety standard that stipulates a threshold of 150 newton of contact force – but it's only a guideline. "There is no information about shape or body parts. With a needle in the eye 150 newton is very different from having a large sphere bumping into your leg," says Behrens, who works with the German Institute for Occupational Safety to come up with standards. (Generally, 150 newton feels like a very faint slap at most — heavyweight boxers can hit with about 5,000 newton.)
For testing purposes the team designed a machine to hit people and record the impact. It's essentially a mechanic pendulum that mimics a robotic limb. For every volunteer, the pendulum is swung at the lowest velocity and the highest mass — against the hand, lower arm, upper arm and shoulder. The volunteers articulate their pain on a scale from 1 to 10 (Behrens stops the tests at 5), with the skin then scanned with ultrasound to check for bruises or swelling.
While some studies have used pig cadavers, Behrens and colleagues decided to recruit live human volunteers like Bernstein, the pastor, who said he's taking part because he's intrinsically curious.
"It wasn't bad at all," Bernstein said after a 500-newton hit on his upper arm. "The back of the hand is the worst, because the pain stays longest."
Once the research on the human arm is completed, the team plans to look at collisions with other body parts. The researchers hope their work will influence the next generation of robots that work safely with humans.
One of them is Annie, a 300,000-euro prototype that looks a bit like Wall-E on steroids. With her six cameras, Annie can safely and autonomously whizz between human workers and, with her three-finger hand, can handle tools including a screwdriver. Other ways to make robots safer include padded robot joints, machines that stop working when touched, or — for bigger robots that weigh thousands of pounds —  tactile factory floors that tell workers visually (think green, yellow and red) where it's safe and unsafe to go.
"This is especially important as robots get more sophisticated," Behrens says. "It's an important step toward having robots at home."