On November 5, Tbilisi will host Spotlight in a renewed format.

The re-branding of the project was accomplished with Erekle Inashvili in 2016, resulting in a dynamic brand developed to provide a focus on the specific direction.
TBC Bank's project "Startuper" is a friend of the event planned on November 5th and will be dedicated to entrepreneurs, startups and startup-ers.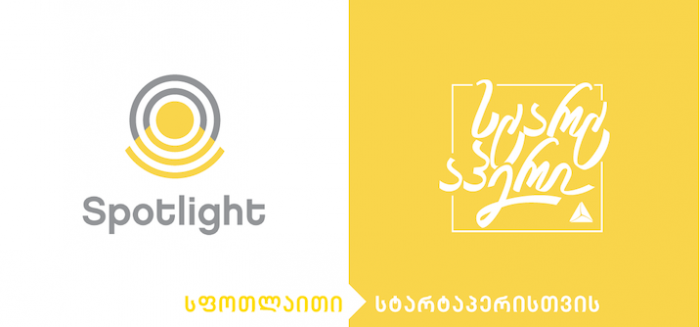 Unlike previous spotlights, this event will start this morning. In the first half of the day will be lectures / master classes and panel discussions, all in simultaneously with each other. Consequently, guests will decide on their own interests what they will attend. In the middle of the afternoon, speakers will share their experiences and vision in the central hall.
Tickets are already on sale through  TKT.ge
The participant companies of Business Awards will be able to purchase limited tickets in advance.
The list of speakers:
Levan Bakhia – SARKE
Nika Kurdiani – TBC Bank
Giorgi Zviadadze – Innovation and Technology Agency
Lasha Gogua – Gizgiza
Tekuna Gachechiladze – Khaseria
Giorgi Popiashvili – Freelance
Medea Tabatadze – Insource
Alex Chikovani – LIVE Branding
Kakha Magradze- GEPRA
Teona Baghdavadze – Key Communications
Gaga Darsalia – Redberry
Merab Gotsiridze – Advertwise
Nika Gabunia – Advertwise
Nata Kvitsinashvili– ACT
Tengo Lomitashvili – TBSC
Vakho Vakhtangishvili – Leavingstone
Giorgi Avaliani – BODISHI
Nika Kumbari– BODISHI
Goga Chinchladze – BODISHI
Nuka Barbare Chokheli – Amelie
Natia Bukia – Project Art Beat
Keta Lomidze –  რედაქცია #3 (Edition #3)
Levan Kiladze – Lemondo
Irakli Chikava – Agro Solutions
Levan Giorgadze – CROSTY
Shota Chinchaladze – LIVE Branding
Davit Gogichaishvili – TV11